Hurtigruten adds new Fjord to sailing schedule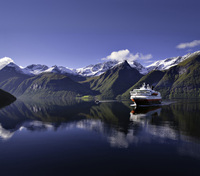 For the first time in two decades, Hurtigruten has expanded its sailing schedule by adding the Hjørundfjord, one of the most stunning fjords in Norway. Located in the Sunnmorsalp mountains, all ships will sail into the new fjord between 1 September and 31 October 2013 as part of their daily journey up and down the coast of Norway.
The newcomer is one of the most outstanding fjords in Norway, situated amidst the majestic Sunnmorsalps, not far from the big brother of fjords, Geirangerfjord. For 35 kilometres, the Hjørundfjord cuts its way into the alpine mountains and offers the chance to get far away from the tourist bustle taking guests along steep rock walls, past green meadows, mountain farms and secluded small villages.
For those who want to explore this new region further, Hurtigruten guests will have the chance to disembark and explore the new fjord on a shore excursion called a 'Taste of Norway'. The ships will stop at the village of Urke in Norangsdalen, one of Norway's wildest and narrowest valleys. From there passengers will travel by bus to Hellesylt and Lake Lyngstol, where they visit the remnants of a settlement that sank into the sea after a massive landslide hit the area more than 100 years ago. The next stop is the Hotel Union in Øye. Built in 1891, two years before Hurtigruten began its service along the Norwegian coast, the hotel has hosted royalty from Germany, Holland and Sweden. An added treat is the opportunity for guests to enjoy some of the regions culinary specialties, plus free time to explore the town.
A Classic Round Voyage including sailing into Hjørundfjord – from £1398pp - Enjoy a 12-day voyage from Bergen in the south to Kirkenes by the Russian border and back again. Prices lead in at £1398pp between 15 September and 31 October 2013 and includes full board on the ship. Flights are extra.
For more information, visit hurtigruten.co.uk.