The Peugeot 208 Type R5 hits the road!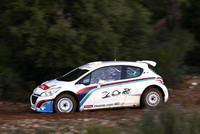 Following its unveiling at the 2012 Paris Motor Show in September, the 208 Type R5 met its first objective when it successfully took part in its first test programme before the end of 2012. The Peugeot 208 is consequently the first car built in compliance with the FIA's latest 'R5' regulations to have broken cover and turned a wheel.

The replacement of the 207 Super 2000 was put through its paces on a gravel stage in the southeast of France (Riboux) where it completed a four-day programme in the hands of Bryan Bouffier/Xavier Panseri.

"That first run was a key step which is now behind us," says Alexis Avril, technical manager of Peugeot Sport's customer competition department. "We still have a great deal of work on our hands, though, since we now need to move on to the next phase of development. This will involve putting as many kilometres on the car's clock as possible in order to validate its reliability. After that, we will be able to turn our attention to the optimisation of its performance potential. Between now and the 208 Type R5's release for sale, its schedule includes more than 10,000km of testing on gravel and asphalt, in testing and on events.
Choosing gravel for last week's test was the logical option. There are a high number of components that will be used for both types of surface, so our aim was to evaluate their strength on the tougher of the two.

At a later stage, we will begin to focus on the suspension and the turbocharged engine which are the two chief factors of the global performance package. The development work in both these areas will be carried out directly by Peugeot Sport."

Bryan Bouffier: "The car felt good out of the box. I was happy with its overall balance and I was comfortable behind the wheel. It seems to be a strong basic car and I particularly liked the turbocharged engine which delivers plenty of torque. That makes it easy to use, and that's a big asset on loose surfaces."

Peugeot 208 Type R5 - Landmark dates:
November 6: assembly of the first 208 Type R5 begins after delivery of the first roll cage-equipped body shell.
December 7: the engine is fired up for the first time at Peugeot Sport's premises in Vélizy, near Paris, France.
December 15: first test session.