The Souqs of Qatar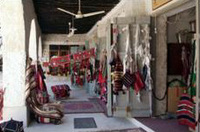 Traditionally an open-air marketplace, Souqs were originally located outside the main cities, in locations where a caravan loaded with goods could stop and merchants could display, trade and sell their goods. Souqs were also the hub for many cultural and social festivities, with communities uniting over local events and entertainment.
Today, the Souq has transformed with time and although the fundamental objectives remain the same they now tend to be more centrally located and a 'must see' on the tourist map. They epitomize the true essence of a destination from cuisine to arts and crafts to local traditional music and dance.
Below are four of the main souqs in Qatar's capital Doha:
Souq Waqif
Located behind the Corniche, off Grand Hamed Street, Souq Waqif is a showpiece of traditional architecture, handicrafts and folk art, and was once a weekend trading area for the Bedouin.
Meaning 'standing market' in Arabic, the Souq evokes the feeling of ancient Arabic heritage and community. Beginning in 2004, the Souq was renovated according to traditional Qatari architectural techniques, using authentic materials.
The only traditional souq to remain in the Gulf, it's now a charming labyrinth of narrow streets where visitors can bargain and purchase an amazingly diverse range of products including spices, dried fruit, nuts, perfumes, local honey, clothing, oud, incense, pots, tools and garden equipment, as well as Bedouin weaving, gypsum handicrafts, model dhows, wooden brass-studded bridal chests, pictures of 'old Doha', and paintings by Qatari artists.
A visit to one of the falcon shops is a unique experience – some shopkeepers will allow you to photograph and handle the birds while explaining equipment and training.
Open from 10am to 12pm and 4pm to 10pm, Souq Waqif is one of the liveliest places in Doha, with an increasing number of restaurants where visitors can taste traditional Qatari food and various specialties from the Middle-East.
There are several traditional cafés and restaurants which are open until late (some 24 hours). Sample local delicacies or try the traditional shisha or water pipe, often referred to as 'hubbly-bubbly' because of the noise it makes. There are regular displays of folk dance and music, particularly on festive occasions, and opportunities to photograph donkeys with traditional patterned saddles.
Souq Waqif is now also home to a collection of six boutique hotels, all styled around the traditional Souq and elegantly merging old with new. The area is described as a labyrinth of archways and walkways that envelop visitors with tradition and history, providing a window into the culture of Qataris (swbh.com).
Gold Souq
Next to the Al Ghanim Central Bus Station, behind the Alfardan Centre off Grand Hamad Street, is the Gold Souq, a must-see even for "window" shopping. Here can be found an abundance of imported and locally crafted gold and silver jewellery sold with or without diamonds, pearls or precious and semi-precious stones.
Most of the items crammed tightly in the display cases are made of 18 or 22-carat gold. The chunky bangles that sport intricate engravings are 'Gulf-style' while Indian-style jewellery carry more complex designs, including filigree work. European designs tend to be more delicate. Haggle away safe in the knowledge that all gold jewellery sold in Qatar is stamped with a government guarantee of purity. Engraving in either Roman letters or Arabic script can be done on-the-spot in 15 minutes.
Much of the gold (all checked and stamped by the Assay Office in Qatar) has been beautifully handcrafted by second and third-generation skilled craftsmen, many of whom will make up a unique piece of jewellery, as well as do resizes or repairs. One popular souvenir is a necklace made with the recipient's name in Arabic, cut from gold sheet and centred on a gold chain. Examples of the heavy but intricate bridal sets given to Qatari girls by their husbands-to-be are also on display; a mass of gold that in the rest of the world would be out of public gaze.
Currently Qatar charges no Value Added Tax (VAT) meaning gold jewellery is significantly cheaper than in Europe. But for those who just want to look rather than buy, most shops will be happy for you to take photographs.
Wholesale Market
The Wholesale Souq, part of the Central Market off Salwa Road, is a hive of activity, attracting both commercial and private buyers. The Vegetable Souq has the feel of a village market – vendors peddle their wares from beneath shaded awnings, offering a colourful and exotic selection of local and imported fresh fruit and vegetables.
Look out for the 'porters' who follow shoppers with wheelbarrows to carry purchases back to their cars.
The variety of seafood in the Fish Souq, set alongside the Vegetable Souq, will fascinate anyone interested in fish, from either a gastronomic or an angling perspective. Stalls of crabs, crayfish, lobsters, prawns and squid add colour (and aroma) to the bustling marketplace. Early morning is the best time to visit.
The Meat Souq is visited more out of interest; while meat can be bought by the kilo or by the carcass, many locals buy live sheep, goats and cows and take them to the adjacent government slaughterhouse. During the days approaching Eid, numerous flocks of sheep are kept in the area for sale.
Omani Souq
Aromas, colours and sights abound at the small Omani Souq, situated behind the Central Market. The tangy, salty smell of dried fish combines with the sweet fragrance of ripe dates, the heady scent of oud (agarwood) and frankincense, creating a unique sensory experience for the visitor. The Omani market remains a reminder of the olden days with small huddled stalls under a huge roof of corrugated iron.
Although small in area, the Omani souq offers a large variety of merchandise, including spices, nuts, perfumes, pottery, plants, camel sticks and incense burners.
For more information on Qatar, visit qatartourism.gov.qa.