Coworth Park's 2013 Kitchen Masterclasses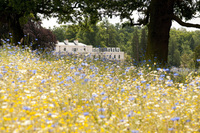 Back by popular demand, Coworth Park Kitchen Masterclasses offer a variety of seasonal cookery lessons available throughout the year.
Coworth Park, Dorchester Collection's country house hotel and spa in Berkshire, is welcoming back food aficionados to explore their passion for food and cooking in 2013 with the hotel's range of Kitchen Masterclasses. The Masterclasses offer a unique opportunity to learn the tricks of the trade directly from the professionals while gathering an exciting glimpse into the day-to-day operations of running a five-star kitchen at Coworth Park.
'The World of Chocolate' Masterclass
Monday 11 February 2013
Coworth Park, one of the few hotels in the world to have its own chocolate room, welcomes guests to learn how to make chocolate. Taught by a true chocolatier, guests will be taken on a chocolate journey from blending to presentation, and demonstrate how chocolate can complement and enhance both sweet and savoury flavours within different dishes. The day will also include preparing and tasting chocolate truffles with an insight into its history and production. Upon departure, guests will be given a special chocolate goodie bag to take away.
'English Asparagus' Masterclass
Monday 29 April 2013
The English Asparagus Masterclass welcomes the start of the UK asparagus season and is led by the kitchen team at Coworth Park. The interactive class will demonstrate how to make the most of seasonal produce, echoing the hotel's fine-dining Restaurant Coworth Park's use of local ingredients within its modern-classic British menu. Guests will also have a chance to discover innovative ways on how to get the best out of this prized vegetable with asparagus recipes for party canapés, starters and main courses at dinner parties.
'Best of British Farmhouse Cheeses' Masterclass
Monday 12 August 2013
Cheese is one of the most diverse products in the world, reflecting the traditions and values of the person who devotes their time to producing it. In this Masterclass guests will celebrate the 'Best of British' cheese and, along with an expert guest speaker, learn how to use it to produce the most amazing dishes. Guests will enjoy an abundance of samples in an interactive tasting session, learn about the intricacies of cheese-cutting, ripening and its production alongside cheese pairings with wines and liqueurs.
'Christmas Made Easy' Masterclass
Monday 18 November 2013
We all know how stressful Christmas can be when cooking for family and friends. Guests will discover the well kept secrets of how to make Christmas easy. Guests will be invited to take part in interactive festive sessions, learning how to create the perfect Mulled Wine, mince pies, as well as many more traditional dishes. Coworth Park's popular Christmas Pudding will be given upon departure for guests to take home and enjoy on the big day.
Guests attending a Coworth Park Kitchen Masterclass will be welcomed on arrival at 9.30am with tea and coffee in The Drawing Room and served a three-course lunch with wine at Restaurant Coworth Park following their Masterclass, with lunch ending by 2.30pm. A Coworth Park apron will also be gifted to each guest to take away.
Coworth Park Kitchen Masterclasses are priced at £175.00 per person and require a minimum of 7 people per class and can host a maximum of 15. Each class is approximately an hour and a half and class timings are flexible, subject to availability. For reservations email donnahuxley[at]dorchestercollection.com.