Taste the North in Helsinki's local food restaurants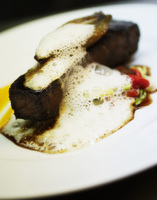 In recent years, a score of young chefs armed with pride in Nordic cuisine and a passion for local ingredients have set up their own restaurants in the Finnish capital Helsinki.
Helsinki is a compact city easily explored on foot, which makes discovering its restaurant scene handy to combine with sightseeing or shopping. See below some suggested pit stops when criss-crossing the Finnish capital.
Chef & Sommelier
In the up-market area of Eira, Chef & Sommelier offers customers anything from a three course to nine course meal.Organic, homemade and pure are the keywords here. chefetsommelier.fi/en/
Juuri
Juuri is renowned for serving 'Sapas', which is a Finnish take on tapas, homemade using typical Finnish flavours including smoked reindeer heart and vodka mustard. Start your meal with these delicious tasters before trying their innovative and wild main courses. juuri.fi/en/
Nokka
Restaurant Nokka takes great pride in its ingredients and maintains close relations with local suppliers and small farms. Their awarded Helsinki Menu is great for first-time visitors featuring authentic dishes such as herring and Hakaniemi, a Finnish cheese. ravintolanokka.fi/en
Olo
Since its opening in 2006, restaurant Olo has been at the top of Helsinki's dining scene, and its success culminated in a Michelin star in 2011. Modern Nordic cuisine using traditional raw flavours such as local Char, following the Nordic nature cycle to ensure fresh flavours all year round. olo-ravintola.fi/en/home.html
Ask
The proprietors of Ask worked in various top restaurants in Helsinki before setting up this newcomer. Seasonal and organic is the name of the game in a beautiful art nouveau setting in the Kruununhaka area. restaurantask.com/
Spis
Spis is a small and cosy restaurant with vegetables such as beetroot and swede at the core of their fresh Nordic ingredients philosophy. Meat and fish, including local pike, are always available, as are artisan wines and Nordic beers. spis.fi/philosophy/
Teurastamo
Teurastamo (The Abattoir in English) is a slaughterhouse-turned-creative-food-hub. Truly innovative, Teurastamo provides a place for small food related businesses to try out new concepts. Ones to check out include the cooking and cocktail school A21 Flavour Studio from popular haunt A21 and the Pasta Factory Helsinki which aims to offer the best pasta outside Italy. teurastamo.com/en/teurastamo.html
Eat & Joy / Muuuu Maitobaari
Eat & Joy Farmers Market in the Kluuvi Shopping Centre is the place to go shopping for Finnish local food products. Don't miss their Muuuu Milk Bar. eatandjoy.fi/eatjoy-farmers-market-and-eatjoy-kluuvi-market-hall