The culinary capital of Asia is brimming with Michelin stars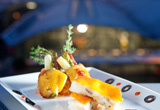 Hong Kong, already renowned for showcasing the best of the best of Chinese cooking, is fast becoming a hub for foodies around the world, highlighted by the latest edition of the Michelin Guide Hong Kong.

The city has long been dedicated to nurturing the culinary talent of local chefs and the first Michelin-starred Chinese chefs were from Asia's World City. Since 2010, when the Michelin Guide awarded its first stars in Hong Kong, more than sixty restaurants have received the prestigious hallmark of fine dining quality.
From high-end to street stalls, the range of accredited restaurants reveals the variety and quality of dining options in the city and they cover an array of international cuisine, so there really is something to suit all tastes. Of the restaurants with the coveted three stars, two are French, one Italian and the Lung King Heen is Chinese.
Executive Chef Chan Yan Tak is the first Chinese chef in the world to receive three Michelin stars and is the master behind the restaurant's authentic Chinese menu at Four Seasons Hotel Hong Kong. Seafood and dim sum are among the specialities and traditional Cantonese classics are given a fresh and contemporary twist, such as a signature dish of sea urchin in lobster jelly, topped with cauliflower cream.
Diners looking for more reasonably-priced high-quality cuisine will not be disappointed with Hong Kong. The city is also home to some of the most affordable starred restaurants in the world with basic local food stalls, such as Tim Ho Wan, earning the accolade. Tim Ho Wan is a dim sum canteen, offering the freshest of ingredients, dishes that are steamed only when ordered- and meals that cost less than a fiver. Favourites such as the barbeque pork buns, prawn dumplings and steamed rice rolls make this a Hong Kong hot-spot for locals and tourists alike. Known as the world's cheapest Michelin star, Tim HoWan shows that visitors to Hong Kong do not have to break the bank to find incredible food.
Away from the traditional culinary delights, other Michelin-starred restaurants in Hong Kong include the contemporary European Mandarin Grill and Bar, the triple-starred Otto e Mezzo Bombana offering Italian fare, and Mirror, which is one of the latest restaurants in Hong Kong to be awarded a Michelin star and provides contemporary French cuisine.

Foodies will have the chance to sample Hong Kong's award-winning cuisine in London at a special event that is being held at, soon to open, Bo London restaurant in Mayfair, sister restaurant of two-Michelin star restaurant Bo Innovation in Hong Kong. The Hong Kong Tourism Board is honouring Hong Kong cuisine by teaming up with Alvin Leung, the Head Chef and owner, who is celebrated throughout Asia for his wonderfully unique fusion cooking.
The exclusive event is taking place on the evening of 5 February and will include a Champagne reception, a cookery demonstration from the Chinese chef, followed by an eight course wine pairing menu.
Tickets are priced at £100 per person and can be booked by emailing: events[at]bolondonrestaurant.com and quoting HKTB.