New Year Detox Packages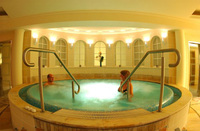 Feeling sluggish and slow after a Christmas of indulgence irritable and grumpy, and with one too many headaches thrown in? A detox could be the fastest way to remedy many of your every day niggling health concerns. Detoxing helps give your body a fresh start, renews energy levels, aids weight loss, and ultimately helps prevent disease by giving your digestion system a break and enabling your body to concentrate its efforts on healing. Every day we are exposed to toxins – both external and internal –and many natural health professionals believe that if left unchecked these toxins undermine and weaken the organs of the body contributing to everything from arthritis to irritable bowel syndrome.
3 Night Detox & Weight Loss Programme, Fortina Spa Resort, Malta
Kick start a new healthy lifestyle regime or detoxify after over indulging with 20 treatments included specifically aimed at detox and weight loss this 3 day intensive programme could be just the thing you are looking for. Ask us for details on longer stay programmes also available at the Fortina.
7-night Anti-Oxidant Thermal Programme, Terme de Saturnia – Tuscany, Italy
This is the classic thermal break that combines the benefits of Saturnia's water and mud treatments with state of the art physiotherapeutic techniques, both manual and mechanical. Capable of carrying out highly-specialised and personalised treatments, to maximise their therapeutic effect.
15 day Dr. Chauchard Fast Sliming & Detox Programme, Longevity Wellness Resort ,Algarve, Portugal
Want to rebalance and reshape quickly? There´s nothing more effective at helping you look your best in the shortest amount of time than Dr. Chauchard´s exclusive 15-day Fast Slimming & Detox programme. Take control of your weight and health virtually overnight.
7-night Sense of Detox Programme, Six Senses Zighy Bay – Musandam Peninsular, Oman
A chance to stimulate the body's natural healing pathways and encourage regeneration and cleansing, this detox programme offers a variety of purifying treatments and daily wellness activities. There are optional diets specially designed to enhance the detox process, improve digestion and boost the immune system. You will leave feeling invigorated, vibrant and having achieved longer lasting health.
7-Night Neeleshwar Priya Detox Programme, Neeleshwar Heritage – Neeleshwar, India
This Detox programme consist of two treatments (one in the morning, one in the afternoon) per person, per day. The exact nature of these treatments will be decided by the in-house vaidya (ayurvedic doctor) after a personal consultation with you to ascertain your body-type (prakriti) and particular physiological (dosha) imbalances.
Detox Packages available through healingholidays.co.uk.