Great Barrier Reef's Lizard Island helicopter scenic tours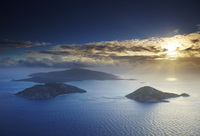 Guests will now have the option to see Lizard Island and its surrounds in style following the decision to base two helicopters on arguably Australia's most luxurious island resort.
Operated by Skysafari Australia, the four-seater Robinson 44 helicopter and the five-seater Robinson 66 helicopter – nicknamed the sports cars of helicopters - will operate a range of transfers and scenic tours each day taking advantage of Lizard Island's enviable location on the northern end of the Great Barrier Reef.
Complementing the pristine underwater world for which it is renowned, scenic flights from Lizard Island will fly approximately 500ft to 1500ft above sea level presenting an amazing aerial perspective of the Great Barrier Reef. From 500ft it is possible to see a large number and variety of marine and mainland wildlife - everything from sharks, manta rays and turtles to dugong, whales and crocodiles, wallabies, sea eagles and wild boar on the coast. All flights will require a minimum of two passengers to travel.
Three flights have been specially created to make the most of Lizard's surroundings.
The 20-minute Lizard Island "Photographer Flight" will soar over the Blue Lagoon, taking in Palfrey and South Island, then head beyond Cooks Look to reveal Lizard's 24 white sand beaches – all with the option of having the doors off. The Lizard Island Photographer Flight is A$200 (approx. £130) per person.
The Great Barrier Reef trip allows guests to venture above the world's largest living organism to see its wild marine creatures on this true sky safari. They will enjoy a rare view of the cobalt blue waters contrasting the spectacular Ribbon Reefs along the continental shelf. This 40-minute trip costs A$400 (approx. £260) per person.
The 60-minute Reef and Coast trip is the ultimate Far North Queensland experience and offers views of wildly abundant coastline, unique freshwater lagoons and endless white dunes as they contrast the pristine islands of the Great Barrier Reef. The Reef and Coast trip is A$600 (approx. £390) per person.
Five Lizard Island Day Tours also have been created offering the scenic flight experience with additional landings at other, sometimes remote, destinations:
Fisherman's Paradise offers guests an incredible flight path over an outstanding reef system and coastline to access a unique Australian wilderness. The flight touches down at exclusive locations to experience remote tropical north Queensland barramundi fishing on privileged aboriginal waterways. This is the ultimate fishing adventure. The five-and- a-half hour trip costs A$1,240 (approx. £805) per person.
The Aboriginal Experience allows guests to connect with an ancient past flying over the Great Barrier Reef, up to the Coral Coast and over the Far North Queensland hinterland. The tour includes an Aboriginal elder's interpretation of bush surroundings and visit rock art sites. This five-hour tour costs A$1,255 (approx. £815) per person.
The Golf on the Cape tour gives golf enthusiasts the chance to play at the northernmost golf course on Australia's east coast. Located at the base of Mount Cook the 9-hole Cooktown Links Golf Course offers a combination of sweeping fairways, undulating greens and challenging bunkers. This five-and-a-half hour trip costs A$1,335 (approx. £868) per person.
The Coloured Sands Picnic trip is a two-and-a-half hour tour offering a flight over fringing reefs before settling on a sand dune surrounded by ancient rainforest and freshwater lakes. The cost is A$695 (approx. £451) per person.
The Cooktown Endeavour trip offers guests the chance to sweep over the Great Barrier Reef before landing in Cooktown, Australia's historic town on the banks of the Endeavour River. Guests can wander through the town, visit the James Cook Museum and have a drink the old hotel. This five-hour tour costs A$1,300 (approx. £845) per person.
Lizard Island General Manager Robyn Pontynen said: "It is such a privilege to be located right on the Great Barrier Reef here at Lizard Island, so we are thrilled that we can now not only offer our guests a truly remarkable underwater experience but also offer them stunning aerial views as well."
Award winning and a constant favourite in the world's 'best' lists, Lizard Island is located right on the spectacular Great Barrier Reef, 240km north of Cairns and 27km off the coast of Cape Flattery. An idyllic island fringed with pristine coral reefs, crystal clear waters and 24 powdery white beaches, Lizard offers the postcard perfect setting for an Australian island escape.
For more information, visit lizardisland.com.au.