Qashqai 4x4 is the solid choice for Anglian Water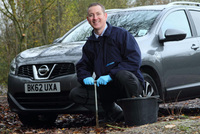 Anglian Water has taken delivery of seven Nissan Qashqai+2 4x4s fitted with the new 1.6-litre diesel engine to fulfil a very demanding job within its vehicle fleet. The Qashqais will be used by sales managers who visit farms across the Anglian Water region.

Muddy tracks, grassy fields and icy slippery winter roads are commonplace in an area that stretches from north of Grimsby to the Thames estuary, and from Buckinghamshire to Lowestoft on the east coast, which is why four wheel drive is specified as standard for drivers.

The huge expanse of the Anglian Water region means the Qashqais will cover up to 120,000 miles in their four years of service, with servicing and maintenance covered predominantly by Anglian Water's network of seven workshops.

The Qashqai was preferred to the Skoda Yeti and Mitsubishi Outlander after extensive testing. The new 1.6-litre engine's fuel consumption, 139g/km emissions, refinement and its overall size and practicality meant the Nissan won the deal.

"We run 100 4x4s on the fleet and they are bought to do very specific jobs for the company. The Qashqais fit the bill perfectly as they must double up as company cars that work in difficult environments in the week and be able to transport the employee's family safely and comfortably at weekends," explained Nigel Allen, Anglian Water's fleet manager.

"We were impressed with the fuel consumption of the new 1.6-litre engine of mid 40s during our test period and it fits into our strategy of only buying sub 140g/km emission company cars. In addition the Qashqai+2 gives the driver more available load space for equipment and the added benefit of seven seats," he added.