Nissan takes competition winners on the ultimate #xtrailadventure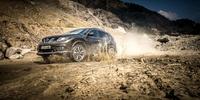 To celebrate the launch of the Nissan X-Trail, hopeful entrants across Europe submitted their 'Adventure Selfies' online for their chance to win the 'Ultimate Himalayan Adventure'.
This dream has been realised for four lucky winners, who joined Nissan on the adventure of a lifetime last month:
UK Adam Pagett (30)
France Jauffray Dunyach (31)
Spain Jose Clavijo (23)
Germany Markus Vetter (35)
Their journey began in Kathmandu, before travelling in the Nissan X-Trail out into the Himalayas where they were immersed in the incredible culture and landscape of Nepal. The winners experienced a multitude of adventure activities from canyon swinging and trekking to waterfall swimming and downhill mountain biking, guided by local independent adventure travel leaders.
Accompanying the winners on the Himalayan adventure was world-class mountaineer, psychologist and author of 'Adventure in Everything', Matt Walker. Matt has been working with Nissan to explore the benefits of adventure on individual wellbeing and drawing on his decade of experience, developed the following 'adventure formula':
Adventure = F (P + Ue + Gc + Pm) - O*
Key:
F Fun
P Passion
Ue Unique experience
Gc Great companionship
Pm Present in the moment
O The ordinary
Matt's work on the relationship between adventure and our physical and mental wellbeing helped form the heart of the winners' experience.
The winners' experiences were captured on film by a world-class production team and will be screened at the Adventure Film Festival (AFF) in London at the beginning of January 2015.
The competition, which aimed to find the most adventurous individuals in Europe, was launched following the results of a Nissan-commissioned YouGov survey, which interviewed more than 6,250 people across five European countries**.
Nearly half (46%) of those asked defining adventure as doing 'something exciting that gets my adrenaline flowing', the main goal for seeking adventure is 'excitement and enjoyment' (59%) followed by 45% of adults looking to 'escape the everyday'.
However, the research found that people may be holding back from being an adrenaline junkie as more than half (52%) feel that money is limiting the thrill factor, followed by fear (31%) and health and family commitments (28%).
Matt explains: "The challenges of adventure reward us with a more realistic perspective on the rest of our lives. While ordinary life can sometimes feel difficult, engaging in adventure increases our ability to handle everyday life's ups and downs. Additionally, adventure offers an opportunity to bring your best self forward and increases confidence."
Bastien Schupp, Vice President of Marketing, Nissan Europe, commented: "It is essential for people to weave an element of excitement into their lifestyle that lets them escape from the everyday. Ultimately, the most important factor for adventure is enjoyment, so that should be the priority when deciding. The new Nissan X-Trail is aimed at adventure seekers and has been designed to make exploring even easier."
The new X-Trail combines Nissan's acclaimed 4x4 heritage with fresh ideas and technologies inspired by the brand's ground-breaking crossover models. Together they form a car that redefines the compact SUV segment. The all new X-Trail combines Nissan's innovative technology with class-leading crossover design.
The film captured during the '#XTrailAdventure' will be released as a feature-length documentary, as well as a short form edit (10-12min), to be premiered at the AFF in London (8th January 2015). There will also be a live Q&A session at the screening with the UK '#XTrailAdventure' winner, Adam Pagett.