West Way Nissan expands into London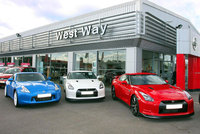 West Way, the UK's largest Nissan dealer group, is building on the carmaker's continued success with the acquisition of two outlets that will see it expand into London for the first time.
The purchase from West London Motor Group of its prominent Nissan outlets in Mill Hill and Hanwell takes West Way's portfolio to 14 sites and forms an important part of the company's five-year strategic growth plan.
It follows a lengthy period of sustained success for the group, during which its success has mirrored that of Nissan in UK, with increased market share in each of its locations – Aldershot, Basingstoke, Birmingham, Coventry, Manchester, Oldham, Oxford, Rochdale, Southampton, Stockport, Stourbridge and Wolverhampton.
The group currently accounts for 10 percent of Nissan's retail sales nationally, though it covers only six percent of the territory. However, the acquisition of the two new sites will significantly increase both volume and turnover and push the group into the UK automotive retail sector's top 40.
Niall MacLaren, Managing Director of West Way Nissan, said: "We are delighted to welcome these two new dealerships into the West Way family and we look forward to the positive impact they will have on the continued success of the group.
"West Way made its name by operating sites in busy city centre locations and today, the majority of our outlets are situated in bustling areas of Greater Manchester and the West Midlands. Expanding into the capital was the next logical step."
He added: "This acquisition is not just good news for West Way, but also for motorists in North and West London. Our dealerships are consistently ranked among the very best in the UK for customer service and two of our outlets have just been named as winners of the prestigious and rarely made Nissan Global Award. This customer-centric philosophy will be at the very heart of these two new outlets and motorists will benefit from that."