Experience the Trilogy with New Zealand's must see attraction pass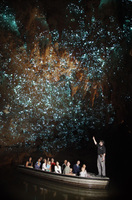 With Peter Jackson's latest trilogy hitting UK cinema screens, New Zealand's stunning natural landscapes are once again taking centre stage for movie-goers around the world. As with the smash-hit Lord of the Rings trilogy, the country's forests, mountains and glorious, verdant countryside provide an awe-inspiring backdrop to this latest series of action-packed films. Thanks to this priceless, global exposure of New Zealand's natural wonders, demand for holidays to the region is certain to surge and the country is gearing itself up for an onslaught of bookings.
Keen to showcase the country, three of North Island's leading tourist attractions have banded together to create a special package called Experience the Trilogy. This attraction pass covers admission to the Hobbiton Movie Set near Matamata, the incredible Waitomo Caves and the Te Puia cultural centre near Rotorua. waitomo.com/experience-the-trilogy
Experience the Trilogy combines some of the very best experiences to be found anywhere in New Zealand's North Island. The Hobbiton Movie Set is perhaps the best known thanks to its prominence the Lord of the Rings. This picturesque spot (located on a working farm) provides the idyllic setting for The Shire (the hobbits' bucolic hometown) in all of the movies. The Experience the Trilogy ticket covers both admission and a two-hour guided tour of the site, which includes 37 subterranean 'hobbit holes' and a thatched pub and mill surrounded by acres of rolling countryside.
Equally unmissable are the mysterious and ethereal Waitomo Caves - a series of impressive, otherworldly caverns lying deep beneath the Waitomo District's limestone hills. Waitomo Caves - the name comes from the Maori words 'wai' (water) and 'tomo' (hole) - consists of three distinct caverns, of which two (Waitomo Glow-worm Caves and Ruakuri Cave) are included in The Trilogy. These soaring, underground spaces are filled with breathtaking stalactites and stalagmites that were created by the erosive power of water over millions of years. The caves' inky darkness is magically illuminated by thousands of glow-worms that line their roofs like a galaxy of stars. Glide silently by boat along an underground river surrounded by glowworms and breath-taking cave formations beneath a limestone vaulted canopy. Become part of the story as you descend deep into the underground, down the spiral entrance in Ruakuri Cave and gaze at crystal limestone formations created over millions of years. Guided tours of both caves are included in the price.
The third attraction of Te Puia, New Zealand's leading Maori cultural centre, is located near Rotorua. Here, visitors can experience a traditional Maori welcome as they discover authentic Maori culture through storytelling, performance art and typical indigenous cuisine. The menu combines contemporary dishes with a traditional 'hangi' (earth oven), where food such as heihei (chicken), poaka (pork), paukena (pumpkin) and kumara (sweet potato) are steam-cooked by hot rocks in the earth. After dinner, visitors can tour the explosive scenery of steaming vents, bubbling mud pools and over 60 active geysers in the Te Whakarewarewa Thermal Valley, including Pohutu (meaning 'big splash' in the Maori language), the largest active geyser in the southern hemisphere, which regularly blasts up to 30metres high throughout the day.
Experience the Trilogy tickets cost $277 (around £145) per adult and $128 (£67) per child and can either be booked online at waitomo.com/experience-the-trilogy.
Given the distances between these attractions, Experience the Trilogy ticket will appeal to those exploring this part of New Zealand on a self-drive itinerary. For the ultimate Kiwi self-drive experience, visitors should consider touring the country behind the wheel of a campervan. These homes-on-wheels are hugely popular in New Zealand and provide unbeatable levels of comfort, flexibility and value for money. Holiday parks and campsites catering to campervans have excellent facilities, are cheap (typically around $30-40 / £15-20 per night) and are liberally scattered across both islands, plus it's even possible to camp for free in many wilderness areas.
Don't expect a one-size-fits-all campervan holiday: these vehicles come in all shapes and sizes to meet holidaymakers' varied needs. Britz, New Zealand's biggest campervan operator, offers nine different models sleeping from 2-6 people comfortably. Prices lead in at NZ$36(approx. £18)/day for the basic HiTop model (sleeps two), while the more luxurious, two-berth Trailblazer model comes with all mod cons and costs from NZ$54(approx. £27.50)/day. For larger groups, the Explorer sleeps up to four adults from NZ$58(approx. £29.50)/day with the Frontier sleeping 6 from NZ$77(approx. £39)/day. Added extras such as Sat-Nav, mountain bikes, picnic tables and portable DVD players can be included in the rental according to customers' wishes.
Britz offers flexible rates and a price-match guarantee to ensure the best rates on the market. The company has campervan depots in the major population centres of Auckland, Christchurch and Queenstown, allowing vehicles to be picked up and dropped off at any of these locations for maximum flexibility.
Campervan holidays are by nature extremely flexible, allowing holidaymakers to pitch up pretty much wherever and whenever they want.
The attractions in Experience the Trilogy package could easily be covered in a six-day itinerary beginning in Auckland and with Rotorua as the first stop. As well as visiting Te Puia, visitors to the area can enjoy the scenic Blue and Green Lakes and explore the naturally-occurring geothermal attractions. The journey could continue via the adventure-sport-rich Lake Taupo and stunning Tongariro National Park before moving on to Waitomo to experience its subterranean attractions and other interesting local sights like the Mangapohue Natural Bridge. From here it's an easy drive back towards Rotorua for the Hobbiton Movie Set and a final overnight before returning to Auckland.