Great British Bake Off stars to appear at Cake International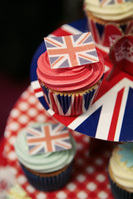 Cake International – The Sugarcraft, Cake Decorating & Baking Show are delighted to welcome baking legends Mary Berry, Paul Hollywood and 2012's Great British Bake Off winner John Whaite to their spring 2013 shows at EventCity, Manchester and ExCeL, London. Paul and Mary will be opening both shows, taking place from the 8-10 March and the 12-14 April, and meeting their thousands of fans in a question and answer session. As well as this, visitors to the show can discover their top tips and baking inspirations in the Bakery Theatre at the show.
With nearly 60 years cooking experience, Mary Berry is known as being the queen of all things baking. Whether you want to make her signature Lemon Drizzle Cake or have a go at a challenging Fraisier Cake, Mary's recipes are some of the most loved in the baking world. Having learnt the art of baking from her mother, Mary quickly established herself as a leading cookery writer and broadcaster, specialising in Aga cookery, cakes and desserts. Over the years, she has published over 70 cookery books which have been enjoyed by millions of people the world over and gained her the reputation for providing practical recipes containing lots of fresh ingredients for all the family.
Paul Hollywood is one of the best loved Artisan bakers and TV presenters in the UK, having worked as Head Baker in some of the most exclusive hotels in the world. The son of a baker, Paul originally trained as a sculptor until his father persuaded him to change careers. By combining his love of sculpting and baking, Paul established himself as an innovator in the baking world. Paul's book, 'How to Bake' by Bloomsbury, is a must-have for any aspiring bread and pastry chef that will teach you how to master even the trickiest recipes including the eight-strand plaited loaf!
Rising star John Whaite will be treating cake fans to a host of exciting Workshops and Demonstrations on the Sunday of the shows where he will showcase his skills which won him his coveted title this year! As well as this he will be answering your toughest questions and giving you his top tips and advice.
Make sure you pop along to the original cake show, Cake International – The Sugarcraft, Cake Decorating & Baking Show where you can meet your favourite stars, Mary Berry, Paul Hollywood and John Whaite and pick up top tips and recipes straight from the experts!
Visit cakeinternational.co.uk for more information.