Make your first holiday of 2013 a ski trip in the Austrian Alps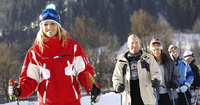 Got great expectations for 2013? Made a promise to make every second of 2013 count and have no regrets by the end of the year? Well then you need to make sure you kick off the New Year with a winning start by booking a ski trip to the Austrian Alps with Contiki Holidays, the leading group travel company for 18 – 35's.
Contiki Holidays offers a unique ski experience in the beautiful resort of Hopfgarten in Austria with amazing value. Travelling with Contiki is as much about the social experience as it is about the destination, making new friends is all part of the experience so if you're travelling solo that won't be an issue. Guests travel together by overnight coach from London and stay in Contiki's very own Austrian Gasthof in Hopfgarten complete with its own bar, and themed party nights, ensuring the fun never stops. And to top it all off it is amazing value for money.
Skiing in Austria is a must do and as the perfect destination for skiers of all experience levels, Hopfgarten in the Tyrol region has a huge range of great runs from the gentle blues for beginners to challenging blacks for the more daring as well as an abundance of off-piste areas just waiting to be explored.
On top of providing guaranteed fun on the slopes, Hopfgarten is also renowned for its après-ski life. At the Contiki only Gasthof, you'll mingle with groups of 18-35 year olds from all over the world. The Gasthof includes comfy surroundings, internet and WIFI and also holds themed party nights in its own exclusive bar Schoneck, which is a great way to let loose and hang out with the company of the other guests in the chalet. Explore Hopfgarten's après ski with dancing and socialising in the towns many bars, clubs and outdoor schnaps stands, providing the perfect way to end your day or begin your evening out.
Also included in the Contiki package is a FREE personal ski guide to help guests get to know the mountain right from the start and to help uncover some great hidden spots, a Salzburg day trip – home of the 'The Sound of Music' and the chance to compete against friends in the exclusive Contiki Grand Slam downhill ski race. And if hitting the slopes and all the après-ski is not enough of an adrenalin rush, there is also optional tandem paragliding with amazing views, magical sleigh rides through the forest, ice-skating on a frozen alpine lake and a bobsled ride all available through Contiki.
Guests can rent out hire gear, equipment and clothing upon arrival at resort. All usual hassles of organizing a ski holiday are sorted, ensuring guests can properly relax and enjoy all that Hopfgarten has to offer.
Contiki's 9-Day Ski Austria starts from £429 including transport to Austria on overnight coach from London, chalet accommodation in Contiki's own Gasthof, personal ski guide, and six meals.
Contiki's 16-Day Ski Austria starts from £739 including transport to Austria on overnight coach from London, chalet accommodation in Contiki's own Gasthof, personal ski guide, and fourteen meals.
Or perhaps you're heading off to the Southern Hemisphere and still want a chance to hit up the slopes? Contiki's Ultimate New Zealand Ski season starts from the end of June where Contiki guests can enjoy a week's skiing in the party capital of New Zealand, Queenstown. Carve up Queenstown's famous ski field, The Remarkables, Coronet Peak and Cardrona. Take a day off from skiing and enjoy the 'adventure capital' of the World and try bungee jumping, skydiving or rafting.
Contiki's Ultimate NZ Ski starts from £701 including hotel accommodation, 8 meals, 4 day ski lift passes and transfers to the slopes.
For more information about Contiki, visit contiki.com.