Give your house the latest looks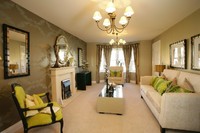 With the festive period over, it's time to look ahead to 2013 and banish those January blues by updating your home with the latest looks in interior design.
Pat Kimber, sales manager for award winning house builder Miller Homes West Midlands, reveals the hot trends for your property this year and looks at how a new home can be the perfect blank canvas to create the interior of your dreams.
1. Every home needs a splash of colour to lift the environment and key trends coming through for 2013, are bright blocks of colour like green, yellow and blue which work in most rooms. By adding green cushions and lampshades to your room, you can update your lounge or bedroom quickly and without spending a fortune. In the kitchen, coloured storage jars, plant pots and place settings, will give you a modern fresh look. Green is a great colour to give you the feel that you're inviting the outdoors in and create a relaxing vibe.
2. Wallpaper is set to remain big news in 2013. Statement walls are a key look in living rooms and bedrooms and will give any environment a rich, luxurious feel. Make sure you keep upholstery and bedding simple if you go for very patterned walls. Garden inspired prints are on trend for your walls, with birds and flowers featuring heavily. Alternatively you could try the retro 1950's inspired look that is popular at the moment.
3. We are spending more and more time in our kitchens entertaining and relaxing and Miller Homes is keen to reflect this trend in their properties in 2013. Make the best of your kitchen and create the perfect space for your family to spend time cooking, eating and relaxing in. If you have room, add a comfortable sofa and make it a place to wind down after a busy day.
4. Don't worry about matching all your furniture, this season it's all about picking upholstery and accessories that complement each other. Why not experiment and mix old with new. Antique fairs and flea markets can give you great one-off items that will be unique to you and at a fraction of the price on the high street. Add a few bold, daring prints to really be on trend.
5. What's on your wall will also make a huge difference to any room. Fantastic statement mirrors will make any space look bigger or try grouping lots of smaller mirrors together to create a more interesting look. Choose your artwork to complement the colour of your interiors or add family photos in different frames for something a little bit more personal.

Miller Homes understands how important it is that you stamp your personality on your property. With this in mind, our options team likes to work with buyers at the earliest possible opportunity to help choose fixtures and fittings to suit both individual lifestyles and budgets.
For more information on Miller Homes' developments across the West Midlands and to find out how you could be in a new home in 2013, visit millerhomes.co.uk.