The BMW i3 Concept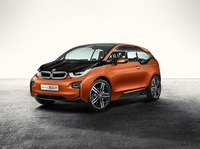 The first word to enter my head upon looking at a concept drawing of the BMW i3 Coupe is 'squat'. It's a chunky and slightly angry looking vehicle, with a colour scheme that's reminiscent of a venomous insect, despite the firm's insistence on the Solar Orange paintwork being warm and energetic. In short, it's certainly not BMW's most attractive car.
Luckily though, looks aren't everything and what BMW has proposed with the i3 is a purely-electric model that offers the flexible performance only typically found in petrol or diesel cars. Producing a maximum output of 125 kW/170 hp, which is delivered to the rear wheels via a single-speed transmission, it is designed to demonstrate the possibilities of the brand's eDrive technology.
Three driving modes are available – comfort allows the motor to reach its full potential, while Eco and Eco Pro adapt the throttle sensitivity and air-con intensity to deliver extra miles. The vehicle's maximum range is, BMW claims, a very respectable 100 miles.
To keep the BMW i3 Coupe concept lightweight, efficient and strong, its bodyshell is constructed of carbon-fibre-reinforced plastic, while the passenger cell is primarily aluminium. The car's battery units are positioned under the floor to lower its centre of gravity, improving handling and overall agility.
Inside, the iDrive dial with an 8.8-inch display for sat-nav and infotainment controls takes centre stage and the absence of a transmission tunnel means there's plenty of passenger space.
The i3 Coupe concept is expected to make it to production in 2014, with prices being rumoured to start around £30,000 after the £5,000 Government grant.
Article provided by Douglas Park BMW