Pure Drive label to identify Nissan's most efficient vehicles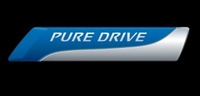 From early next year in Europe and Japan, Nissan will introduce the Pure Drive badge to its range of vehicles which produce the lowest emissions, or those which feature technology that reduces fuel consumption significantly.
The introduction of the Pure Drive badge is to enable customers to quickly and easily identify the most efficient models in Nissan's range. It also follows recent changes to several Nissan models to reduce the emissions and fuel consumption.
In Europe, Pure Drive badges will be added to the vehicles in Nissan's range which produce less than 140g/km of CO2:
Micra 1.2l petrol (MT)
Micra 1.5l diesel (MT)
Note 1.4l petrol (MT)
Note 1.5l diesel (MT)
Qashqai 1.5l diesel (MT)
Qashqai+2 1.5l diesel (MT)
In addition, from next month those models fitted with a CVT transmission will be badged with an Xtronic CVT badge:
Qashqai 2.0l petrol
Qashqai+2 2.0l petrol
X-TRAIL 2.0l petrol
X-TRAIL 2.5l petrol
Continuously Variable Transmission (CVT) technology allows the engine to operate at its most efficient rate thanks to a complex system of belts and pulleys instead of traditional cogs and gears. As well as being smoother to drive, without the normal interruptions in acceleration normally associated with manual or automatic gearboxes, CVT technology provides the convenience of an automatic transmission with lower fuel consumption and emissions.
Nissan will continue to develop additional Pure Drive models which will wear the label in the future.
"In today's environment, many customers are interested in buying the most efficient cars. By introducing the Pure Drive badge, Nissan has made it easy for our customers to identify which cars in our range consume and emit the least CO2. In addition, by including the CVT equipped models in the Qashqai and X-TRAIL line-ups, we may present them with options they wouldn't have otherwise considered," said Pierre Loing, Nissan's European Vice President for Product Planning.
The Pure Drive label will also be introduced in Japan, where Nissan is pioneering the introduction of clean diesel in a market which has traditionally been dominated by petrol engines.