Lovec Hotel in Bled bets on local products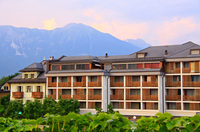 Since summer 2012, the Grill Restaurant of the Lovec Hotel in Bled, Slovenia, has been offering traditional Slovenian dishes produced exclusively from locally grown ingredients. At the end of 2012, the newly opened Lovec Pub has joined this concept.
The sunny terrace and friendly ambience surely are important advantages of the Grill Restaurant, while the restaurant has been attracting more and more guests with its special culinary offer since this summer. Numerous traditional Slovenian dishes are now to be found on the menu, the ingredients for which originate from carefully selected farmhouses of the surrounding area. This delights not only Slovenians who long for grandma's cooking, but also all those guests from around the world who would like to get a taste of the local cuisine while on holiday. Ranging from home-made sausages with sauerkraut to grilled trout, from tasty mushroom soup to the delicious Bled cream cakes, everybody will find the right dish for oneself on its menu.
The newly opened Lovec Pub also remains loyal to the concept of local products. The pub offers a broad selection of local and international beer, wines, sparkling wines and champagnes. In addition, there are numerous home-made liqueurs, brandies and soft drinks, as well as the special Slovenian whisky. For a small bite, the menu features daily fresh sandwiches, a hamburger made of local ingredients, home-made chips, the Carniolan sausage, stews and – for all sweet-toothed – the delicious chocolaty cakepops.
The atmosphere in both outlets of the Lovec Hotel will be lively throughout the year. The event calendar promises guided tastings of local delicacies, live music, and culinary happenings on the terrace and a changing seasonal offer for gourmets.
The new culinary offer complements the concept of the Best Western Premier Hotel Lovec whose architecture and interior design blend perfectly with its natural surroundings. The natural materials used in the hotel, such as wood and stone, create a pleasant and friendly ambience for a truly relaxing holiday.
For more information, visit lovechotel.com.