An iconic piece of the Ottoman Empire now available for travellers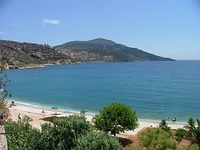 An iconic property which was a Custom House at the heart of the Ottoman Empire is now available as luxury holiday accommodation in Turkey for today's discerning guests. Kalkan Magic, a provider of luxury rental accommodation in Kalkan on Turkey's Turquoise Coast, has added the prestigious Custom House to its upmarket portfolio of holiday properties.
Located at the heart of the picturesque harbour village of Kalkan, the property dates back to the turn of the century and features regularly in publications documenting the history of the Turquoise Coast. Whilst being steeped in history, the three bedroomed listed property has been magnificently restored and tastefully decorated to reflect its Ottoman heritage.
Boasting panoramic sea views across Kalkan bay, the Custom House is located virtually on the harbour front, only a stone's throw away from Kalkan's blue flag beach, its famous restaurants and very chic boutiques.
Kalkan Magic owner, Sue Flynn said, "With its distinctive pale pink façade, The Custom House is an iconic listed building and we are delighted to add such a prestige property to our select portfolio of exclusive holiday homes in this unique location. Our guests vary from couples who want to sample the delights of this beautiful region to families wanting to relax by the pool and enjoy all that Kalkan has to offer. What they all have in common though is that they don't want to compromise on style or facilities and they all want the 'view to die for' which is why Kalkan never disappoints."
Prices range from £995 in April to £1195 in August - prices include up to 8 and all cleaning and linens are provided. The Custom House joins other prestigious properties offered by kalkanmagic.com.