Learn meditation in The Land of the Veda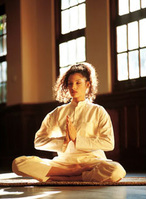 London's leading meditation teachers Jillian Lavender and Michael Miller will be offering a seven day programme teaching the ancient technique of Vedic Meditation from 24 – 31 March 2013 at award-winning Ananda in the Himalayas.
Vedic Meditation is the oldest practice of meditation in the world and has its roots in India. It is a natural technique that delivers many practical benefits including clearer thinking, improved health, reduction of biological ageing, increased energy, greater happiness and more rewarding relationships. This course is open to beginners and will teach guests powerful and practical tools to maintain balance and deal with the demands of life.
For experienced Vedic Meditators, there will be an advanced programme designed to enhance the restfulness of meditation and release the deepest stresses - delivering the benefits of many months of regular meditation.
Jillian Lavender and Michael Miller have taught Vedic Meditation to thousands of people all over the world. They founded the London and New York Meditation Centres and lead courses and retreats worldwide. They both come from business backgrounds, so understand the challenges and benefits of a daily meditation practice. Jillian is a featured writer and executive coach who travels the globe teaching and guiding people on how to integrate meditation into modern life. Michael is an acclaimed speaker and performance coach, specialising in how to find balance and sustainability in the midst of a demanding personal and professional life.
For more information, visit LondonMeditationCentre.com or anandaspa.com/visiting/vedic.asp