Porsche Boxster wins 'Sports Car of the Year' award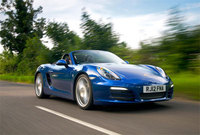 The new Porsche Boxster – the latest generation of the benchmark roadster -- has been named 'Best Sports Car of the Year' at the annual What Car? Awards.

Chas Hallett, Editor-in-Chief of What Car?, commented: "The Porsche Boxster is simply brilliant in every way – it'll cope with the greyness of mid-winter commutes and it'll feel great when the road opens up and the roof comes down on summer evenings. It's also a relative bargain and won't cost too much to run."

This success follows the "brilliant" Boxster being awarded first place in the 'Best Sports Car' category in the annual motoring awards of the Daily Express. Shortly after going on sale last May, the Boxster also triumphed in the 2012 Auto Express New Car Honours, scooping the prize for 'Best Roadster'.

New Porsche Boxster in detail
With an all-new lightweight body, new flat-six engines with direct petrol injection, a completely revised chassis and evolutionary yet utterly distinctive styling, the Boxster defines what an open-top sports car should be. Core to its enduring appeal is the mid-engined layout that delivers renowned poise and balance combined with precise, agile handling.

Up to 35 kg lower weight, a 60 mm longer wheelbase, widened track on the front and rear axles, and larger wheels and tyres combine to significantly enhance the performance of the new car by notably increasing its chassis responsiveness. These attributes clearly result in the new Boxster offering a superior level of performance, but also help to deliver -- in combination with many other new features -- up to 15 per cent greater fuel efficiency.

The Porsche Boxster is powered by a choice of charismatic mid-mounted, flat-six engines. The 2.7-litre fitted in the Boxster delivers 265 hp (195 kW). The 3.4-litre of the Boxster S produces 315 hp (232 kW). Both models feature a manual six-speed gearbox as standard, with the seven-speed dual-clutch Porsche Doppelkupplungsgetriebe (PDK) available as an option.

The philosophy of Porsche Intelligent Performance not only makes this Boxster the fastest ever, but also the most efficient roadster in the company's history. When fitted with the PDK transmission and Sport Chrono Package option, the 2.7-litre Boxster sprints from 0-62 mph in 5.5 sec, the Boxster S in just 4.8 sec. Combined fuel consumption for the Boxster with PDK is 36.7 mpg, while CO2 emissions of 180 g/km place the model in Band I for Vehicle Excise Duty purposes. The Boxster S with PDK returns 35.3 mpg combined (188 g/km CO2).

The new Porsche Boxster is priced from £37,589, and from £45,384 for the Boxster S. Every new Boxster customer can also explore the potential of their car by participating in a complimentary course at the Porsche Experience Centre, Silverstone.

Porsche Cars Great Britain business update
With the new Boxster and new 911 reaching UK and Irish showrooms in 2012, Porsche Cars GB recorded sales of 7,998 – up by 25 per cent versus 2011. This strong performance was supported by all models in the range.

New Cayman due in March
The next chapter in the Cayman story opens this year when deliveries begin of the latest version of the mid-engined Porsche coupé. The new Cayman aims once more to set the class benchmark for driving performance; its longer wheelbase, all-new chassis and lower weight further optimising the established dynamic credentials of the coupé.

Since its debut in 2005, the Cayman has earned a particular reputation as a driver's car. For the latest model, the two-seater coupéhas been completely re-developed and – after the 911 Carrera and Boxster roadster – is the third sports car model series from Porsche to feature innovative lightweight body design.

S Diesel builds on Cayenne success
Ten years after UK sales of the Cayenne began, the five seat, four-wheel drive Porsche is firmly established in the range line-up. With a wide choice of petrol, diesel and hybrid engine variants, the Cayenne combines sports car handling on the road with the added versatility of being able to cover ground quickly and safely, regardless of the terrain.

Arriving in Porsche Centres this month, the new Cayenne S Diesel offers a compelling combination of dynamic performance and efficiency. Featuring a 4.2-litre twin-turbocharged V8 engine developing 381 hp and 850 Newton metres of torque, the S Diesel provides the most pulling power of any Cayenne currently on sale.

The new addition to the range can sprint from 0-62 mph in 5.7 seconds, and on to a top speed of 157 mph. This is balanced by fuel consumption of 34.0 mpg on the NEDC and emissions of 218 g/km CO2. Aiding efficiency and comfort is the auto start/stop function; the Cayenne S Diesel is the world's only V8 diesel SUV to offer this feature.

Cayenne Turbo S makes Detroit Auto Show debut
With the power output of its twin-turbocharged 4.8-litre V8 engine increased by ten per cent to 550 hp (and torque boosted from 700 to 750 Nm), the forthcoming Turbo S is the definitive Porsche Cayenne in which to cover ground quickly. With its advanced active chassis dynamics, the supreme four-wheel drive five-seater surpasses the driving performance of many sports cars.

The Cayenne Turbo S – which makes its debut at the Detroit Auto Show in America on January 14 – has been carefully configured for maximum dynamic performance. From the already highly-capable Cayenne Turbo it takes the combination of air suspension and active PASM damping control. To this is added Porsche Dynamic Chassis Control (PDCC), which reduces the roll angle in curves to improve agility and comfort equally. Porsche Torque Vectoring Plus (PTV Plus) is also a standard feature, combining torque vectoring on the rear wheels with an electronically-controlled rear differential lock to improve traction.

Plug-in hybrid extends Panamera range
Combining the sporting performance of an eight-cylinder engine with the economy of a six-cylinder – with the added versatility of being able to drive in pure electric mode -- the technically-sophisticated Cayenne S Hybrid and Panamera S Hybrid models embody the Porsche Intelligent Performance philosophy. This year sees the introduction of 'plug-in' hybrid technology making its debut on the Panamera, which will become the first car in the premium segment to offer this function.

918 Spyder from September 18
In September, production of the 918 Spyder super sports car begins in Stuttgart with first customer deliveries scheduled for November. As a technology showcase, the plug-in hybrid 918 Spyder features a high performance 4.6-litre V8 petrol engine coupled to cutting-edge electric motors offering extraordinary performance.

The Porsche 918 Spyder has the potential to break many records. Already, it has lapped the challenging Nürburgring Nordschleife in 7:14 minutes; which is over 15 seconds faster than the Porsche Carrera GT. However, the 918 Spyder sets new standards in its efficiency as well. As a plug-in hybrid, it systematically combines the dynamic performance of a racing machine with over 795 hp with fuel consumption of around 94 mpg (three litres/100 km) and approximately 70 g/km CO2.

The 918 Spyder breaks further new ground with spectacular solutions such as the full carbon fibre reinforced plastic (CFRP) monocoque with unit carrier, fully adaptive aerodynamics, adaptive rear axle steering and the upward-venting 'top pipes' exhaust system. In the process, the 918 Spyder is offering a glimpse of what Porsche Intelligent Performance may be capable of in future.