Palm Springs celebrates its 75th birthday with great events in 2013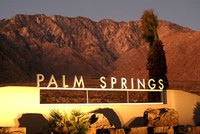 The Palm Springs Bureau of Tourism has announced an exciting events calendar for 2013, the same year that marks its 75th anniversary as an incorporated city. Palm Springs was incorporated in 1938, back when Snow White & The Seven Dwarves (the first ever cel-animated feature) came to the screen; the first ever issue of The Beano was published; and Etta James, Oliver Reed and Evel Knievel were all born.
Palm Springs' milestone year will be celebrated throughout 2013, with a whole host of events and festivals. From the hip and happening Coachella Music Festival to the internationally-acclaimed Modernism Week and quirky treats such as McCormick's Classic Car Show, the destination's experiences are just as hot as its climate. Special parties are also expected to be held on 20th April, the date of the city's official founding.
In addition to its range of fantastic events, visitors to Palm Springs can discover a place where history and timeless glamour mix with epic natural wonders and innovative architectural design. A destination that boasts over 350 days of sunshine, a fascinating Cahuilla Indian heritage, an abundance of celebrity homes and one of the biggest concentrations of mid-century modern architecture on the planet, together with a huge variety of outdoor activities, from jeep safari tours along the San Andreas fault line - a unique Palm Springs experience - to 2.5 mile cable car rides on the world's largest rotating tramcar.
Here is a selection of the top events in Palm Springs this year:
Palm Springs International Film Festival
3rd-14th January 2013
Palm Springs becomes a dazzling, star-studded arena for two weeks every January when it plays host to a fabulous array of movies and movie stars. A-list names such as Richard Gere, Bradley Cooper, Sally Field, Helen Hunt, Dame Helen Mirren and Naomi Watts grace the city during the festival. In addition, it features a stellar line-up of over 100 films from more than 60 countries.
psfilmfest.org
Desert Arts Festival
19th-20th January, 16th-18th February, 2nd-3rd & 23rd-24th March 2013
West Coast Artists' events have been among the highest-rated, superior-quality fine art shows in California. The series of festivals feature exceptional artists and craftsmen offering original artwork from throughout the Western United States, bringing literally hundreds of artists to downtown Palm Springs to present their unique work in acrylic, collage, etchings, mixed media, oils, pencil, watercolours, digital and traditional photography. Now in its 27th year, the Desert Arts Festival continues to delight holidaymakers in Palm Springs.
westcoastartists.com
Tour de Palm Springs
8th-9th February 2013
With Tour de France fever still lingering from last year, visitors to Palm Springs can cheer on nearly 8,000 riders of all ages and abilities on a course through the city and surrounding Coachella Valley. The Tour de Palm Springs varies in difficulty and length, with courses ranging from 1 to 55 miles long. The event has raised over $1,000,000 for local charities since 1999. The region's famous weather, gorgeous mountain scenery and strong fundraising focus, make the Tour de Palm Springs an event like no other.
tourdepalmsprings.com
Modernism Week
14th-24th February 2013
Widely considered the "Mecca of Modernism", Palm Springs is a living museum that comes alive during this 11-day celebration of mid-century modern design, architecture and culture. The city has one of the largest and best-preserved collections of this design aesthetic, which boomed in the 1940s, 50s and 60s and was typified by clean, simple lines which came to define desert modernism. The 11 days are filled with a variety of events including architectural and interior design tours, films, lectures, educational events and parties in cool mid-century modern homes.
modernismweek.com
McCormick's Classic Car Show and Auction
22nd-24th February & 22nd-24th November 2013
A must for classic car enthusiasts, this three-day event showcases one of the finest collections of classic collectable cars in existence. Over 500 classic, sports, antique and special interest automobiles are sold across the auction block against the backdrop of the stunning San Jacinto mountains. McCormick is best known for its marquee stable of Corvettes and American muscle cars but Ferraris, Porsches and more can be found in pristine condition. The event is held twice a year in February and November.
classic-carauction.com
Native FilmFest
27th February - 3rd March 2013
Once home to the Agua Caliente Band of Cahuilla Indians, Palm Springs pays homage to its native heritage at the annual Festival of Native Film & Culture. The festival is one of the nation's most highly-regarded events of its kind, featuring the best in films by, about and starring Native Americans and other indigenous peoples. Screenings are held at the Camelot Theatres in central Palm Springs.
accmuseum.org
BNP Paribas Open
4th-17th March 2013
The world of professional tennis has come a long way since the beginning of its open era in the late sixties, allowing the BNP Paribas Open to evolve into the largest combined ATP World Tour and WTA in the world next to the four Grand Slams. The two-week tournament sees the top men and women professional players compete in a 96 singles draw and 32 doubles draw. It is hosted at the magnificent Indian Wells Tennis Garden, located in the beautiful southern California desert, and regularly attracts over 300,000 tennis fans.
bnpparibasopen.com
Coachella Music Festival
12th-14th & 19th-21st April 2013
The USA's hippest music and arts festival is held annually at the Empire Polo Club fields, just outside of Palm Springs. Each year the festival features hot new bands and many genres of live music along with some of the music world's biggest names, such as Snoop Dogg and Radiohead. There are six stages and over 100 bands as well as a retro funfair boasting the festival's iconic Big Wheel, lots of large sculptural art and food stands galore.
coachella.com
American Documentary Film Festival
4th-8th April 2013
Strategically located two hours east of Hollywood, this film mecca boasts a favourable viewing audience of many self-proclaimed aficionados. The American Documentary Film Festival aims to be the largest documentary festival and market on the West Coast of the United States. Its main objective is to promote a world vision of film as seen through the eyes of the filmmaker of whomever or whatever their subject matter may be, in order to educate and entertain filmgoers.
Palm Springs Air Museum Annual Memorial Day Flower Drop
27th May 2013
Every Memorial Day, the Palm Springs Air Museum commemorates the important role of those who fought in World War II. A brief memorial service dedicated to all the fallen is followed by a B-25 Mitchell Bomber aircraft dropping 3,000 red and white carnations from the sky to honour US veterans. The white and red carnations represent those who gave the greatest sacrifice - their lives - for their country.
palmspringsairmusuem.org
Palm Springs Desert Resorts Restaurant Week
31st May - 9th June 2013
A spectacular exhibition of the region's finest culinary talents, Palm Springs Restaurant Week is designed to highlight the entire valley from Palm Springs to Indio as a first class dining destination. Over 100 restaurants participate every year by offering three-course menus at a fixed price of either $26 or $38 per person and enabling visitors to enjoy its outstanding range of quality cuisine at bargain prices.
palmspringsrestaurantweek.com
Palm Springs Pride Weekend
2nd-3rd November 2013
Whereas many cities celebrate Pride in late spring or summer, Palm Springs - which experiences very hot summers - holds its Pride Festival in early November. The two-day extravaganza hosts a fabulous parade along Palm Canyon Drive, followed by an all-afternoon and evening festival with live entertainment, food, dancing, concessions and fun games. Numerous LGBT-friendly bars, restaurants and hotels throw special events and parties throughout the weekend. It is one of the largest gay pride celebrations and attracts crowds of more than 40,000 fun-loving participants.
pspride.org
Palm Springs Festival of Lights Parade
December 7th December 2013
Consistently voted one of the best local events in the Coachella Valley, the annual Palm Springs Festival of Lights Parade features a host of marching bands, performing groups and signature floats adorned in colourful Christmas lights and the famous dancing tractor - the largest in the world - decorated with over 20 miles of lights. Over the years, the parade has welcomed over 80,000 visitors annually to downtown Palm Springs to see the twinkling floats and help celebrate the festive season in style.
psfestivaloflights.com