GTi is back! Win an experience of a lifetime in the new 208 GTi!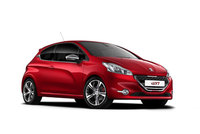 To celebrate the launch of the new Peugeot 208 GTi, Peugeot is recruiting eight drivers through an innovative 208 GTi Racing Experience. Eight European countries are inviting race licenced drivers to register on the internet, between 16th January and 3rd February 2013; they then have the chance to drive the new 208 GTi in the Nürburgring 24 Hour Race in May 2013.

For the first time, eight European countries in which the Peugeot 208 GTi creates significant interest: the United Kingdom, Germany, France, Belgium, Spain, Italy, the Netherlands and Switzerland, will all launch a driver recruitment campaign on the Internet.
This competition is aimed at drivers, from 18 years of age, who hold a valid full driving licence and have held a national (Grade A) or International Race Driver Competition Licence for at least two years. To participate in the national pre-selections, which will take place between 18th and 28th February 2013, candidates must be among the first 400 to register (for each country concerned) on the website: 208GTiracingexperience.peugeot.com (see full terms and conditions for entry requirements).

The five winning candidates, from each national pre-selection event, will then be assessed on 4th March 2013 during an international final at the La Ferté Gaucher circuit, in France. So, from the 40 national winners, eight (one from each of the eight participating countries) will be selected to drive the 208 GTi in the Nürburgring 24 Hour Race.

The eight winners will gain familiarisation with the Nürburgring-Nordschleife circuit during the first three races of the VLN championship, between 23rd March and 27th April 2013, and then drive the new 208 GTi Peugeot Sport in the Nürburgring 24 Hour Race 2013. This car has been specially developed for this endurance event by Peugeot Sport, using the latest technology designed for the 208 R2, 208 Type R5 and RCZ Racing Cup.

The 208 GTi racing experience celebrates the launch of the eagerly awaited 208 GTi, which goes on sale in the UK in mid-April. Through this innovative and exciting competition, Peugeot Sport will deliver, for one lucky UK winner, an experience of a lifetime in the new 208 GTi.
Twitter: #208GTIRacing