Hyundai building new vehicle test centre at Nurburgring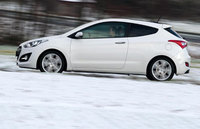 Hyundai has revealed plans for a new vehicle test centre, situated at the famous Nurburgring track in Germany –with construction well underway. The new facility, which represents a £4.5m (€5.5m) investment, reaffirms the brand's commitment to developing its credentials as a top European carmaker.

Tests carried out at the new facility will be used by engineers at the company's existing R&D centre in Russelsheim, Germany, to improve the quality and driving performance of Hyundai's European-designed vehicles. In 2012, almost 95% of the 444,000 Hyundai cars sold in Europe were designed, engineered and tested in Russelsheim, including the best-sellers i30, ix35 and i40.

Allan Rushforth, Senior Vice President and COO of Hyundai Motor Europe, said: "The new Hyundai test centre at Nurburgring is an expression of our intention to focus on improving the customer experience of our vehicles, such as ride and handling – an important consideration for European drivers. The new centre represents a significant investment, and one we expect will significantly contribute to enhancing the perception of the Hyundai brand and our key competitive competence in Europe."

The 3,050m² building's location was chosen for its direct access to the famous race track, dubbed 'The Green Hell' due to its challenging nature. Just as with Hyundai's re-entry into the WRC series, track-testing at Nurburgring will enable Hyundai to develop the driving dynamics, reliability and durability of its vehicles.