Peace of mind is standard with CARED4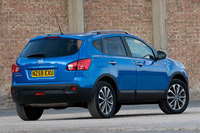 Nissan has extended an offer giving customers of its quality-approved CARED4 used car programme even greater peace of mind.

Now available until 31 March, the promotion means all pre-owned Nissans purchased using Nissan Finance through the manufacturer's UK network come complete with two years' free servicing and RAC pan-European Roadside Assistance.

The move follows a wealth of positive feedback from satisfied CARED4 customers who took advantage of the additional reassurance the offer provides during the last quarter of 2012.

And it further underlines the manufacturer's commitment to ensure the experience of buying and owning a used Nissan lives up to that enjoyed by the marque's new car customers.

Michael Auliar, Used Vehicle Business Manager at Nissan GB, said: "There are already many reasons for customers to choose a CARED4 used Nissan and this offer strengthens the case still further."

He added: "Our CARED4 programme was designed to build trust and reassurance for our customers and to provide additional value in buying a used car through the Nissan franchised network.

"The extension of this offer reaffirms our commitment to achieving that goal."

Under the Nissan CARED4 scheme each used car customer should feel as valued, important and well supported as new car buyers during every stage of the ownership experience.

But the highly successful scheme goes well beyond setting out standards for customer service.

CARED4 customers also benefit from four manufacturer-backed pledges designed to offer the same levels of peace of mind and protection new Nissan buyers have come to expect.
1. Every CARED4 vehicle is the subject of detailed checks by an independent company to ensure it's not stolen, that there's no outstanding finance, has never been written off and that the Vehicle Identification Number (VIN) corresponds to DVLA records. In addition, the mileage is researched to see if there is any indication of discrepancy. Only then do CARED4 vehicles undergo a rigorous multi-point check and preparation process by a Nissan trained technician. Only once it has passed every single check can it become CARED4.
2. For further peace of mind, every CARED4 car comes with a manufacturer-approved warranty for a minimum of 12 months with an option to upgrade to a further 12 or 24 months for even greater worry-free motoring. What's more, all Nissan CARED4 vehicles are less than seven years old and have covered less than 75,000 miles. As an additional benefit, each CARED4 vehicle more than two years old comes with MoT Test Insurance to cover costs in the unlikely event it fails its next MoT (up to a maximum of £750 inc VAT).
3. Each CARED4 car comes with a 30 day/1,000 mile exchange promise. This means in the unlikely event that the vehicle develops a fault, which cannot be resolved within the mileage and timeframe, it will be exchanged for another vehicle of at least equal value.
4. All CARED4 cars enjoy the You+ Nissan CARE commitment which provides motorists with a free courtesy car when their own Nissan is being serviced and 12 months' free roadside assistance.
For more details about Nissan CARED4 or the range of quality used Nissan models available, visit nissanusedcars.co.uk.