Sail Croatia's shoulder season savings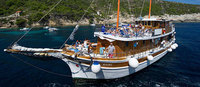 With Croatia tipped to be one of this year's hot destinations, small ship cruise specialist Sail Croatia shares its secrets on how to explore this Baltic country for less in 2013's shoulder seasons. Enjoy the unique vistas of Croatia's coastline, the diversity of towns, villages and excursions on offer as well as the sociable atmosphere onboard with one of these great-value cruise deals:
April Upgrades On Explorer Cruises
With new airlines flying in to its international airports, the start of the summer's warm, clear skies and the cultural events calendar in full swing, April is a great month to visit Croatia. What's more, Sail Croatia is offering free upgrades on all its Explorer Cruises.
Aimed at young professionals, a seven-night Explorer Cruise in April starts from just £319 per person (saving £30). The price includes accommodation with a free on board upgrade to a 'Explorer Ensuite' ship with private cabin and ensuite. Breakfast and lunch are also included.
With time to relax, sightsee and socialise, journey between Split and historic Dubrovnik, stopping off along the Croatian Riviera, the peaceful island of Mljet and the bustling town of Hvar. Sleeping 32 guests, the ship boasts spacious and comfortable cabins and a large sun deck, perfect for relaxing with friends and admiring the breathtaking views.
May Specials On Navigator Cruises
As the sea and sun warms up and before neighbouring Europeans descend en mass, May is the best month to get outdoors and active in the Balkan state. Sail Croatia offers guests the chance to trial buggy safaris, wreck diving, island bike rides, kayaking and scenic walking tours on its fun and frugal Navigator Cruises.
Perfect for the under 35s, Sail Croatia's Navigator Cruises offer island-hopping around the Croatian coast, aboard some of the liveliest motor yachts on the Adriatic accompanied by like-minded travellers. Swim in secluded bays and once in port explore historic towns and villages, along with their vibrant cafes, bars and clubs.
Sail Croatia is offering 10 per cent off seven-night Navigator Cruises on selected departures in May with prices starting from £287 (saving £32). The price includes accommodation onboard with breakfast and lunch served daily.
September Bargains On Traditional Cruises
For those to looking to explore Croatia's idyllic beaches and historic attractions at a more relaxed pace, Sail Croatia recommends taking one of its Traditional Cruises in September, which are popular with couples and mature travellers. It's perhaps the best month to take the trip from Dubrovnik to Split since the weather has started to cool, though the sea remains warm and the crowds start to disperse as children return to school.
With seven-night Traditional Cruises starting from £494 per person in September, compared to the end of July, which costs £674, savvy and sophisticated travellers can grab a bargain in this shoulder month. The price includes accommodation on a Premier Ship with en suite facilities and air-conditioning, dining salon, bar and spacious sun deck.
For more information and to book, visit sail-croatia.com.