Luxury Waldorf Astoria Berlin begins welcoming guests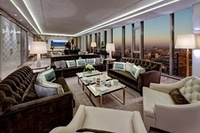 Waldorf Astoria Hotels & Resorts has unveiled its second European luxury hotel opening in recent months - the highly-anticipated Waldorf Astoria Berlin. Setting a new standard in luxury for Berlin and the wider German market, the hotel marries the timeless elegance of the legendary flagship, Waldorf Astoria New York, with a unique design inspired by Berlin's vibrant and contemporary personality.
Featuring 232 luxury guestrooms and suites, the hotel sits within the spectacular new Zoofenster skyscraper, designed by renowned German architect, Professor Christoph Mäckler. With a total of 32 floors and a height of 118 meters all crafted with stone and glass and the city's highest suite, the splendid presidential suite on the top floor, the Zoofenster and Waldorf Astoria Berlin are a truly magnificent addition to the skyline of Berlin's City West.
The hotel's interior design has been conceived by the renowned Parisian agency, Inter Art Etudes, in a timeless yet contemporary interpretation of art deco style. From the lobby to the guest rooms and suites, the hotel's interior design, is worthy of the prestigious legacy of the famed Waldorf Astoria, which opened its doors in 1931 on New York's Park Avenue.
John Vanderslice, global head of luxury and lifestyle brands for Hilton Worldwide, said, "We've experienced unprecedented levels of luxury growth in Europe lately, with five unique Waldorf Astoria hotels now welcoming guests across Europe. Waldorf Astoria Berlin is a wonderful addition to our portfolio, offering exquisite luxury that combines culinary excellence with a world-class spa offering and flawless, intuitive service."
The hotel's enviable location puts guests on the doorstep of some of the city's most famous tourist attractions. This includes the historic church, Kaiser-Wilhelm-Gedächtniskirche, built as a memorial to Kaiser Wilhelm I, the first man to become emperor of a united Germany. The glamour of the premium shopping boulevard, Kurfürstendamm, known to locals as Germany's Champs Elysées is only minutes away and contains a plethora of designer fashion houses.
Simon Vincent, president, EMEA, Hilton Worldwide said "We are privileged to be playing such a critical role in the regeneration of West Berlin through the opening of this magnificent property. Waldorf Astoria Berlin is an outstanding example of the splendour for which the brand is renowned and is a fantastic addition to our multi-brand portfolio in Germany where we now operate 18 hotels across four brands."
Waldorf Astoria Berlin boasts an impressive range of dining and drinking experiences in a variety of settings and styles. The outstanding attraction will be the restaurant run by world-renowned French chef, Pierre Gagnaire. Boasting 12 Michelin stars at restaurants across the globe, Gagnaire requires little introduction and tables at the opulent "Les Solistes by Pierre Gagnaire" are set to be amongst the most highly sought after of the Berlin restaurant scene.
In addition, the Romanisches Café - renowned as a legendary meeting place for literati, local artists and musicians - is set to reopen on the ground floor of the hotel, just a stones throw from where it was first located around 100 years ago. The New York-styled Lang Bar offers upmarket ambiance in which to enjoy a range of cocktails and artisan beers. Whilst in the shadow of the famous Waldorf Astoria grandfather clock, Peacock Alley provides signature afternoon teas in a stylish, yet relaxed, environment to complete the hotel's array of mouth-watering experiences.
Providing further opportunity for indulgence will be the hotel's spa, featuring acclaimed French beauty specialists, Guerlain. With a tradition of excellence in the field of wellness and beauty which can be traced back almost 200 years, the Guerlain Spa Waldorf Astoria will see the trendsetting brand bring its innovative range of treatments to Germany for the very first time.
Guerlain Spa Waldorf Astoria will offer eight therapy rooms amid a spacious 1,000 square metre spa area, each individually designed to complement the delivery of a variety of treatments. Guerlain has also developed the "Beauty Revelation" a signature treatment which will be exclusive to Waldorf Astoria Berlin, combining rejuvenating body and facial treatments to invigorate the senses and leave guests with a sensation of freshness in both body and mind.
In addition to the hotel's exclusive dining and wellness facilities, Waldorf Astoria Berlin also provides a spectacular venue for meetings, conferences and events hosting from 10 people up to 1200. The second floor of the hotel features a range of exclusive facilities including a 3550 square foot ballroom perfect for extravagant weddings, award ceremonies or banquets. Five private rooms all with the benefit of state of the art equipment and natural lighting throughout, are also available and a wonderful terrace overlooking the city, for up to 200 people, is located on the sixth floor.
Waldorf Astoria Hotels & Resorts currently includes more than 20 landmark destinations around the world, with European properties including: London Syon Park, A Waldorf Astoria Hotel; Trianon Palace Versailles, A Waldorf Astoria Hotel; Rome Cavalieri, Waldorf Astoria Hotels & Resorts; and The Caledonian, a Waldorf Astoria Hotel. Waldorf Astoria Jerusalem is due to open its doors to guests next year and Waldorf Astoria Amsterdam is expected to open in early 2014.
For more information go to: waldorfastoriaberlin.com.