Portsmouth youngster on track for Abu Dhabi triathlon record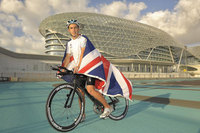 Portsmouth's 14-year-old Sam O'Shea, who lives in the United Arab Emirates' capital, is set to smash the record books this March as he becomes the youngest competitor to take on the gruelling GBP 143,400 Abu Dhabi International Triathlon - one of the world's top events.
Lining up against some of the globe's top athletes, including Team GB's gold medal winning Olympic triathlete and back-to-back European Triathlon Union champion, Alistair Brownlee, the super-fit youngster will take on Abu Dhabi's 111.5 kilometre pure power 'Short' course, which includes a 1.5 kilometre swim, 100 kilometre bike and 10 kilometre run on 2 March 2013.
The football fan who moved to Abu Dhabi two years ago from his UK home, has already notched up over 10 triathlons, road races and adventure series and is relishing his biggest challenge yet.
The shimmering turquoise waters off Abu Dhabi's blue flagged public beach, the roads along the stunning Abu Dhabi Corniche beach, and the spectacular Yas Island and Yas Marina Circuit - home to the annual Abu Dhabi Grand Prix - are familiar stomping grounds for O'Shea. He already trains in the UAE capital six days a week with local running and triathlon clubs and at his school. The youngest of two children, O'Shea's ambition is to become a professional triathlete and emulate his hero, Brownlee, who will be one of a long list of global stars taking their marks at the Abu Dhabi Tourism & Culture Authority (TCA Abu Dhabi) - organised event.
"Watching Alistair Brownlee win the triathlon gold medal at London 2012 convinced me that this is what I want to do with my life. I am so excited that he is coming to compete in Abu Dhabi this year - he is the biggest name in our sport and will definitely be the one to beat," said O'Shea, who has won back-to-back U18 20 kilometre ADNEC Indoor Run titles, won the first Junior Duathlon at Tri YAS last year, took the inaugural 2XU Triathlon U18 Olympic distance title in Dubai and won the ADNIC 3 kilometres. His sister, Holly, 16, is also a keen triathlete and is taking part this year.
No stranger to top level competition, the youngster represented the UAE in the World Biathlon Championships in Dubai last November and has now set his sights on winning the age group category in Abu Dhabi.
After joining the Abu Dhabi Striders running club, the Abu Dhabi Triathlon Club and his school swimming club, this year's Abu Dhabi International Triathlon will mark his full debut tri event in Abu Dhabi.
In 2012, the event - which has one of the sport's richest prize purses - attracted 191 British athletes, the second highest nationality of competitors globally.
Now in its fourth year, the Abu Dhabi showpiece offers three course distances; the 223 kilometre 'long course' (3 kilometre swim, a 200 kilometre cycle and 20 kilometre run), the half-length 'short' course (1.5 kilometre swim, a 100 kilometre cycle and a 10 kilometre run) and the sprint course (750 metre swim, a 50 kilometre bike and 5 kilometre run). Both the 'Short' and the 'Sprint' can be run as a team relay.
Organisers have frozen athlete registration fees for the fourth year in a row. Athletes interested in entering should visit abudhabitriathlon.com and, after clicking on the ENTER NOW link, simply follow the instructions. Entry fees for the long and short distances are GBP118 (AED695) and GBP81 (AED475) respectively, while Sprint course rates are GBP47 (AED275) for individuals and GBP75 (AED440) for a team. The fee for the team relay is GBP175 (AED1,022).