Springtime yoga in the Mediterranean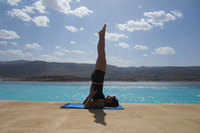 Tall ship sailing specialist Star Clippers is offering a springtime yoga and meditation-themed cruise on its flagship, the 227-passenger Royal Clipper, under the tuition of acclaimed expert Raphaella Rose.
Departing Lisbon on April 28, the seven-night voyage includes calls at Portimao, Tangier, Cartagena, Ibiza and Palma, ending in Barcelona. The yoga programme will include two daily sessions out on the ship's sun-warmed teak decks under thousands of square feet of billowing sails – the ultimate relaxing environment for body and soul, enhanced by the fresh sea air and the spring sunshine.
Each class is open to all guests and suitable for all levels, with no prior experience required. All classes and lectures are optional and run alongside the ship's regular activities.
For guests who want to follow a healthy or vegetarian diet during the sailing to complement their yoga practice, Star Clippers' breakfast buffets feature an abundance of fresh, seasonal fruits, and guests can select from a variety of salads at lunchtime and vegetarian options at dinner.
Raphaella's classes are suitable for all levels of experience. Her speciality is Ishta style yoga, a highly personalised form of yoga that embraces Hatha postures and Tantric and Ayurvedic philosophy. Tantra offers specific meditation techniques and tools to calm the mind, while Ayurveda with posture modification aims to rebalance the individual mentally and physically.
Australian-born but currently based in Barcelona, Raphaella has practiced yoga for 16 years and taught regular classes since 2005, in the USA, Britain and Spain, running regular retreats alongside her class schedule.

From £1,590, cruise-only, including full board, all yoga classes and all port taxes. To book, visit starclippers.co.uk.