Hoist the main sail and cast off for El Gouna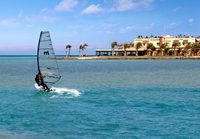 Sail La Vie is the newest recruit to the Red Sea town of El Gouna offering sailing and windsurfing lessons to holidaymakers.
With the tag line "Real Boaters, Don't Need Motors", the school is based next to the Sheraton Miramar and teaches holidaymakers how to command the crystal clear warm waters on a range of water vessels.
Examples of the tuition courses include a two hour windsurfing course which costs just 30€ (£25) per person and a two hour sailing course costing just 60€ (£50) per person.
Families can also get out on the water as a group with sailing tuition for children aged seven and up starting from 30€ (£25) per hour.
Experienced windsurfers and sailors can rent a range of equipment and boats at competitive rates starting from just 15€ (£12.50) per hour.
If holidaymakers would prefer to chill-out, relax and let someone else do the sailing for them, Sail La Vie run trips which include soft drinks and snacks and start from just 25€ (£21) per person for a two hour trip, 35€ (£30) for a four hour trip and 60€ (£50) for a six hour sail.
Travellers can even book a four night sailing break directly with the company which includes a 10 hour tuition course and accommodation at the Ali Pasha hotel in El Gouna, on a bed & breakfast basis for 500€ (£419). The hotel is three star and is located a short walking distance from the sailing centre, right in the heart of the vibrant Abu Tig Marina.
Bookings and enquiries can be made to sail_lavie[at]yahoo.com.
El Gouna is fast-becoming the Red Sea's premier watersports town with a new watersports complex due to open in July 2013 for water skiers, wake boarders and wake skaters to hone their skills. It will include an Olympic-sized water ski cable with a slalom course and selection of obstacles.
Thanks to El Gouna's warm climate and guaranteed sunshine, adrenalin junkies and water babies flock to El Gouna all year round. With spacious beaches, coastal winds and shallow waters, El Gouna attracts droves of kitesurfers to its five kitestations, while the clear waters, reefs and wrecks make it a diver's paradise. Back on dry-land, there's plenty of opportunities for holidaymakers to keep active, from golf and tennis to horseback and camel riding.
For more information on the resort, visit elgouna.com.