Slither into the Chinese New Year in style at Naga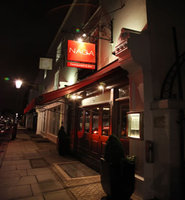 From Monday 4th – Sunday 10th February, sophisticated Pan Asian Restaurant and Bar, Naga will be celebrating Chinese New Year and henceforth the year of the snake.
The name 'Naga' itself is in fact a Sanskrit word for a type of serpent. So Naga will therefore be going all out to honor their reptilian friend and will even be introducing a new Snake Wine based cocktail to their existing exotic and enticing drinks menu.
Snake wine is a form of Asian Rice Wine that is made and then stored in a bottle alongside a whole pickled Cobra, and expert mixologist, and co-owner of Naga, Tri Van Dang, has especially created the 'Serpent's Kiss' using this rare ingredient. Containing a heady mix of Vodka, Cointreau, a splash of Snake Wine and Chilli-pepper Vodka, served over crushed ice, sliced ginger, lime juice and brown sugar – this cocktail certainly has a real bite!
Guests can also enjoy a bespoke New Year's menu that will offer a selection of three courses for £30. The menu will boast starters such as 'Snake Rolls' with Avocado, Crab & Rice Vermicelli wrapped in Rice Paper, Fresh Betel Leaves served with Pomelo Salad and Shanghai Beef Pot sticker Dumplings. For the mains there will be a few special twists on Chinese classics such as Whole Pomfret steamed with Ginger, Spring Onion & Soy, as well as more fiery options such as Whole Scallops stir-fried with Chilli Bean Sauce.
Naga is an award winning, elegant Pan-Asian restaurant located just off Kensington High Street. Naga combines chic and contemporary décor with a warm and welcoming atmosphere making it a neighbourhood gem that people will travel from near and far to visit. In the brief period since it has been previewing, Naga has already won Best Chinese Restaurant in London at the prestigious Asian Curry Awards.
So this Chinese New Year 'snake, rattle and roll' along to Naga.
Naga Chinese New Year
4-10TH FEBRUARY 2013
2 Abingdon Road,
London
W8 6AF
W: nagarestaurants.co.uk