Hostelling International launch in Paraguay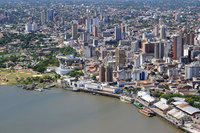 As one of the world's largest accommodation providers, Hostelling International has over 4,000 hostels in 90 countries. Customers of HI enjoy booking with us, not only because of the vast selection of budget accommodation we offer, but also because of our assured standards of quality that every hostel in the network has to meet, ensuring that every guest is guaranteed safe, quality, comfortable and secure accommodation at an affordable price. Our team of inspectors visit our hostels worldwide to ensure that these standards are constantly upheld.
In January 2013, HI broadened their global network further by opening a brand new hostelling association in Paraguay. With its rich and fascinating culture, the small country of Paraguay in the heart of South America is fast becoming a leading ecotourism destination, boasting 11 national parks, protected forests and breathtaking waterfalls.
The capital 'Asuncion', where our first hostel in the network is now bookable, is one of the oldest cities in South America, and has a friendly, laid back feel with a beautiful location near to the Paraguay River. With original old style colonial buildings, the world famous Casa de la Independencia Museum and the cathedral, the city is a popular hot spot for tourists - who want to enjoy all that the interesting city has to offer.
Other great highlights in Paraguay include the Jesuit ruins at Encarnacion, the Chaco (South America's largest dry forest) as well as colonial villages, ranches and lush jungle teeming with life.
HI's brand new Asuncion El Viajero Hostel & Suites is now available to book online at hihostels.com. Perfectly located in the heart of the city centre, within walking distance of the main attractions, the hostel is a great base for guests wishing to explore the exciting surroundings. Situated in a restored mansion, with two large common areas, a bar, barbeque and an on-site pool, the hostel offers all the amenities that modern guests expect, whilst still maintaining an affordable price tag.
Prices start from £7.89 per night for a multi-share room, prices start from £25.29 for a double room, per night. Breakfast included.
For more information, visit hihostels.com.