YHA investing £4million in new Cardiff 'Poshtel' for groups and city breakers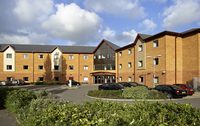 YHA (England and Wales) is investing £4million in Cardiff, creating a new 92 bedroom world-class YHA in in the heart of the Welsh Capital and set to open in March 2015.
Situated only 15 minutes' walk from the City centre, Central train station and the Millennium Stadium, the new YHA Cardiff Central will be one of only a handful of accommodation providers near the centre that has cost effective group accommodation for schools, colleges or universities with classrooms on site.
YHA purchased the three-storey former Mercure Lodge Hotel on East Tyndall Street earlier this year and will be opening the luxury Poshtel in Spring 2015 following a £500,000 facelift. The new YHA Cardiff Central will also have three fully equipped meeting rooms making it ideal for conferences and school groups.
Every room will have en suite facilities and there will be free wifi throughout the building, a secure luggage store, free onsite parking for cars and coaches, and conferencing facilities available for private hire. Catering for travellers of all tastes and budgets, YHA Cardiff Central will also boast a licensed restaurant and a self-catering kitchen.
Uniquely, YHA will be retaining the hotel's upper floor as premium bedrooms, featuring Queen size beds and TVs, which will be targeted at the weekday corporate and weekend travel market and city breakers looking for comfortable, welcoming, low cost, centrally-located accommodation.
Following the refurbishment of the building, YHA Cardiff Central will join YHA's 160-strong network of properties throughout England and Wales which provide great value, friendly accommodation for young people, families, groups and individuals.
Caroline White, Chief Executive of YHA (England and Wales), said: "I am delighted that YHA is able to develop its presence in the Welsh capital. Our new Cardiff YHA encapsulates everything that we aspire for Youth Hostels to represent – modern, comfortable, welcoming and well-located properties that are accessible to everyone.
"Retaining the upper floor as premium rooms will enable us to tap into a new market and maximise occupancy and revenue, allowing us to increase the valuable work YHA does to reach out to young people and provide them with new experiences."
Bookings for YHA Cardiff Central are open now with prices for private en suite double rooms starting from only £39 and beds in shared rooms starting from £16.
YHA (England and Wales) is confident that the property's prime location, coupled with YHA's reputation for low cost, modern accommodation, will make it hugely popular with both domestic and overseas visitors. To take a virtual tour of a modern YHA visit yha.org.uk/hostel-virtual-tours
Caroline added: "We want to make sure that we continue to have world class YHAs in fantastic locations and to make sure that as many people as possible know about what a great time they can have when they stay with us. We expect thousands of young people to experience this YHA and Cardiff every year."
The investment in YHA Cardiff Central brings YHA's investment in Wales to nearly £6 million in 2014. Earlier this year, YHA refurbished YHA's iconic Snowdon Pen-y-Pass property, near Nant Gwynant, Caernarfon, to create an environmentally and financially sustainable YHA securing its long-term future.
Since 2011 YHA (England and Wales) has invested more than £25million in its network of properties, creating comfortable, contemporary-styled accommodation, helping put further distance between the outdated public perception of Youth Hostels and the modern reality, which is proving particularly popular with young families looking for great value, child-friendly breaks..
For further details of all Youth Hostels in England and Wales, or to make a booking, visit yha.org.uk.