Signature Pubs opens The Huxley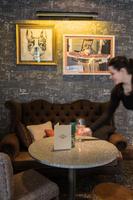 Signature Pub Group's exciting new venture - The Huxley - has opened its doors at 1 Rutland Street.
With its enviable West End location featuring views of Edinburgh Castle and along Princes Street, The Huxley is all about getting together, being comfortable and catching up whilst enjoying a selection of eclectic beers, quaffable wines and delectable cocktails – all teamed with delicious food inspired by American and British classics.
Vintage upholstered chairs and leather sofas ready to sink into give the venue its laid-back look and 'home away from home' feel.
General Manager Murray Ward commented: "Having visited a variety of venues both in the UK and abroad, we felt that The Huxley would make an excellent addition to Edinburgh's eating and drinking community.
"We are hugely passionate in everything we do including our food, drink & service, and really hope that we can help reignite a bit of West End spirit with The Huxley."
Head Chef David Haetzman, who also heads up the group's Kyloe Restaurant & Grill, added: "We have brought together a range of well-prepared dishes that are a little different from the norm, all made using high quality, locally sourced ingredients where possible.
"Inspired by our forays into the U.S., our menu boasts a range of gourmet hot dogs and chuck steak burgers, which is what we believe people will enjoy in Edinburgh.
"It's good, honest food that we hope will keep our guests coming back for more."
The Huxley also offers a selection of small plates perfect for sharing which includes favourites such as a scotch egg made with venison and black pudding and a sausage roll made with spicy lamb accompanied with BBQ beans.
For its drinks menu, the team selected St Mungo lager from Glasgow. Discoveries made further afield include Goose Island Honkers Ale, a Breakfast Mojito and an Orange Vesper.
For more information, visit thehuxley.co.uk.