UK's party-throwers pickier than ever when it comes to party politics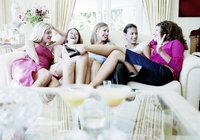 There is no greater social upset than being excluded from a guest list – as TOWIE's Gemma Collins found out when Mick Norcross barred her from Essex's infamous Sugarhut.
But a survey has revealed that we are indeed a nation of invite-elitists, finding that one in three (33%) admit to not inviting certain friends because of their past behaviour, whether they are family, friends or neighbours.
And the study by party caterer's The London Kitchen, revealed that this is no over-reaction, with 55% of people confessing to party 'sins' such as spillages (34.2%), crafty indoor smoking (14.4%), being sick (15.3%), drug taking (8.10%) and having illicit sex (9.9%) – with one in five men admitting to having had sex at a party!
"With dry January well and truly over and payday making a social life a little easier, the party spirit is again live and kicking out there. It seems that we have had our fill of family and 'party politics', though and will now be carefully editing our guest lists this year – it's the ultimate in invite elitism!" said Damian Clarkson, managing director of The London Kitchen catering.
"Whilst nearly 20% of women surveyed worry about the prospect of cooking and 33% worry about the expense, a well-organised party at home can be an extremely affordable and enjoyable way to entertain lots of people at the same time. Get in some professional help – either from your favourite quality supermarket or by calling in a caterer, which will leave you free to handle any bad behaviour!" said Clarkson.
Top five tips on creating the perfect guest list
1. Check facebook for any unknown mutual friendships (or disputes!) that might cause trouble and ask a close friend to cast their eye over your list – they might spot a problem you've missed

2. Stick to one clique or ensure you've a real balance of groups – there's nothing worse than being a lone outsider in a group of close friends

3. Variety is the spice of life, so trying mixing different people and interests

4. If you know you've invited someone who's a nightmare after a few drinks, recruit a friend to help you keep an eye on them and administer water and hot, buttered toast

5. Keep upstairs rooms locked – you never know what naughtiness might be going on!

For more information, visit thelondonkitchen.com.