Why learning on holiday is the key to switching-off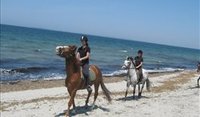 Reclining on a beach lounger with a novel in one hand and cocktail in the other; finally it's time to relax on the holiday you've been fantasising about all year.
But hold on, where's your phone? And is your laptop getting signal?! Within minutes of arriving on holiday 6 out of 10 of us are reaching for our smart phones, iPads and laptops, and a startling 86% are doing so to check emails.
"An 'out of office' response means nothing anymore," says Edward T. Creagan, a medical oncologist who writes the Mayo Clinic's stress blog. "We're driving ourselves wacko with no time to power down."
Researchers have found that the average Brit needs three-and-a-half days to feel relaxed and unwind; almost half the length of the average holiday.
The survey of 2,021 adults also found that although the average worker now gets 25 days' annual leave each year, many fail to use all their allowance. And those of us who do go on holiday, only 53% say they come back feeling rested and rejuvenated.
Yet as our lives become increasingly busy and stressful having a break is more important than ever, not only for our health but also for our productivity at work according to psychologist Dr Glenn Wilson.
"Holidaymakers returning to work are healthier, happier and therefore likely to be more productive,'' said Dr Wilson.
But holidays as we know them aren't working. We can't switch-off and relax just by lying on a beach anymore, and we can't afford to lose nearly four days trying.
So how do we get our much needed breaks back in our technology dependent lives?
Learn something new
The holiday industry is still the same, but these holidays no longer cut it. Learning something new on holiday is the answer to switching-off in today's world.
"All around us, technology has influenced our lives and because of it holidays as we know them don't work anymore," says Vanessa Lenssen, CEO and founder of GoLearnTo.com - the leading holiday specialists.
"GoLearnTo.com is on a mission to challenge and change the nature of holidays and provide an alternative to the old-fashioned, tired holiday industry, so people can really switch-off again," Vanessa said.
"When you're absorbed in a new activity your mind is forced to switch-off from work, and focus on the task at hand."
It was Vanessa's own difficulty with switching-off and relaxing on holiday that inspired her to start up GoLearnTo.com in 2006.
Now six years on, thousands of people have discovered learning holidays not only for new richer travel experiences, but because they've finally been able to switch-off and relax.
"Our guests come back buzzing and eager to tell us all about what they learnt, the people they met and how thrilled they are that they managed to leave their work behind."
"This is how a holiday should feel. We don't get the holiday blues, instead we come back excited about the future," says Vanessa.
Here are a few innovation holidays from golearnto.com that are sure to make you leave your technology torture devices where they belong; in your suitcase:
Stay in a luxury eco-retreat in Andalucia, Spain. Whether learning to paint, cook, making your own paint from natural resources, or even going on a paint safari; the courses held in this dreamlike off-grid location will have you forgetting your work and daily stresses in no time. And if really do need reception; you'll only have to climb to the top of an olive tree to get it.
Go horse-riding and learn the art of Spanish cooking in Los Juncares, Spain. Immerse yourself in the delights of Spanish cuisine and roam by horseback through this stunning semi off-grid location surrounded by olive groves, verdant mountains, hills and views of Lake Izjnar.
Experience the ultimate relaxation at our Ashtanga yoga retreat in Koh Samui Thailand. Take time away from the busy pace of daily life on this relaxing yoga retreat set on the pristine beaches of Laem Sor. Dedicated to wellness, this luxury eco-friendly yoga retreat is the perfect place to practise healthy living to ensure you return home relaxed, revived and with a new found energy and enthusiasm.