New Peugeot 208 GTi - available to order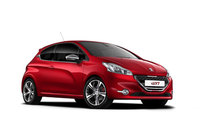 The iconic GTi is back! Designed to appeal to driving enthusiasts with a perfect blend of performance and style, the 208 GTi will prove to be an exciting addition to the 208 range.

Peugeot now announces prices for the eagerly awaited new 208 GTi, from only £18,895. Following the successful launch of the new 208 in June 2012, Peugeot has rejuvenated the Supermini car segment. The 208 has been a great success and the 208 GTi will deliver even stronger desirability with exhilaration, performance and panache.

Peugeot has made its mark with an exceptional history of hot hatchbacks; the Marque's DNA has the best genes for creating the modern performance GTi, a playful and chic sports car; a contemporary interpretation of the legend that is a Peugeot GTi.

Key Points:
Available to order from 1st March 2013
Price £18,895

Key Technical Information:
1.6 THP 200 bhp engine
Acceleration 0-62 mph - 6.8 seconds
Maximum Torque 275 Nm @1700rpm
CO2 just 139 g/km

Key Specification:
1.6 THP 200 bhp engine
Unique 'Carbone' 17" Alloys
Red painted front and rear brake calipers
Twin chrome exhaust and body coloured rear spoiler
Lighting signature and DRL with LED Technology
GTi trim – Sports seats with black half leather
Digital radio (DAB)
Rear parking aid

The announcement of this new Peugeot 208 GTi follows closely on from the launch of 208 which has taken off since launch, now with over 21,000 orders since order books opened.

British buyers will be delighted with this modern take of a true Peugeot GTi classic.