Nissan 370Z Nismo unveiled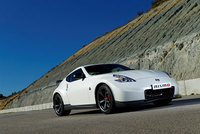 The second member of Europe's new Nissan Nismo range has been revealed - the 370Z Nismo.

Closely following the Juke Nismo, the 370Z Nismo shows what the ultimate Z has to offer and the thrilling coupe has been unveiled ahead of its public debut at the Geneva Motor Show in March.

Featuring dramatic styling with red Nismo design signatures it also packs increased power and improved aerodynamics. Available only as a coupe with a six-speed manual gearbox, the 370Z Nismo features extensive engineering and styling enhancements. A version of the 370Z Nismo is already on sale in North America and Japan, but for Europe a unique specification has been developed to suit both road conditions and the tastes of European driving enthusiasts.
Just like the Juke Nismo, every change over the standard 370Z has been carefully considered and based on Nismo's motorsport experience. Design modifications have been driven by aerodynamic improvement.

The front end features a more aggressive design improving airflow under the car, leading to improved stability at higher speeds and through corners. This additional downforce is complemented by an extensively re-engineered suspension and chassis set-up, enhancing stability and handling on both road and track.

Other design enhancements include the distinctive Nismo red pinstripe lines visible at both the front and the rear and on the door mirrors. Unique dark grey Nismo superlight 19-inch forged alloy wheels with sports-derived red brake calipers and wider high performance tyres are also fitted. At the rear a smart new spoiler adds the finishing visual touch while also improving aerodynamic performance.

Inside, the already performance-oriented 370Z design is now more driver-focused than ever. The steering wheel is finished in alcantara and leather with a red race-inspired 'top dead centre' marker, as seen on the Juke Nismo. The sports seats are fully electric with special Nismo badging and red stitching for a premium and sporty detail. The finishing touch is a numbered Nismo plate adding exclusivity to each 370Z Nismo.

Thanks to Nismo tuning, the Z's 3.7-litre V6 engine delivers 344PS, up from 328PS in the standard car, while torque increases from 363Nm to 371Nm. The result is improved responsiveness across the low and mid rev range, and a 0-62mph time of only 5.2 seconds (a tenth of a second faster than the standard 370Z, subject to homologation).

Already known for its exceptional dynamics and handling characteristics, the rear-wheel drive 370Z delivers an even more thrilling experience in Nismo form. Drivers will experience thrilling acceleration and the reassurance of exceptional high-speed stability.

Enhancing braking feel is also a crucial part of the Z's development, so Nismo engineers have adopted high rigidity brake hoses and high performance brake fluid from the R35 GT-R. An exclusive Nismo dual exhaust system also enhances and amplifies the thrilling sound of the Z's 3.7-litre V6 engine.

Further details will be revealed at the Geneva Motor Show on 5th March 2013.