Practice yoga afloat under the Costa Rican sun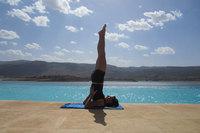 Tall ship specialist Star Clippers is offering guests a new opportunity to enjoy free daily yoga and meditation on board a yoga-themed cruise on the tall ship Star Flyer along the coasts of Costa Rica and Nicaragua, departing February 24, 2013.
Under the direction of yoga teacher Melanie Camp, the yoga programme will include two daily sessions out on the ship's sun-warmed teak decks under thousands of square feet of billowing sails – the ultimate relaxing environment for body and soul, enhanced by the fresh sea air and the lush, tropical scenery.
Each class is open to all guests and suitable for all levels, with no prior experience required. All classes and lectures are optional and run alongside the ship's regular activities.
For guests who want to follow a healthy or vegetarian diet during the sailing to complement their yoga practice, Star Clippers' breakfast buffets feature an abundance of fresh, seasonal fruits, and guests can select from a variety of salads at lunchtime and vegetarian options at dinner.
Melanie Camp brings many years of teaching experience to Star Clippers, having earned her certification in the Barkan Method and her Yoga for Seniors and Yoga Therapy certification at Duke University Integrative Medicine. She teaches in Fort Lauderdale and has conducted yoga retreats in locations as diverse as Utah, Peru and Morocco. Melanie is also is the author of Artful Yoga, a book of yoga tips featuring her original oil paintings.
The cruise departs Puerto Caldera on February 24 and calls at San Juan del Sur; Playa del Coco; Santa Rosa National Park; Samara; Puerto Carrillo; the National Reserve of Curu; and Isla Tortuga. From £1,250 per person, excluding flights. To book, visit starclippers.co.uk.