From 205 to 208 in 30 years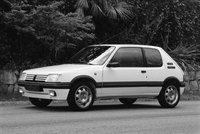 On the 15th February 1983 the 205 was born. Although the 201, 202, 203 and 204 came before it, it would be the 205 that really put Peugeot on the world map.

Some 5.3 million models went on to be made before production ended in 1999. Its replacement, the hugely successful 206, has now reached the 8 million production mark making it the best-selling Peugeot model ever in the history of the Company. In the last 30 years, over 17 million 2 series vehicles have been produced by Peugeot in the B car segment.

Today the number may have changed (the new 208 was launched in the UK in June 2012 and succeeded the 207), but the success of Peugeot's Supermini continues.

In December 2012, just a few months after its launch, the 208 was on top of the European B segment and ended the year with 220,000 sales across Europe.

Produced in France (Poissy) and in Slovakia (Trnava), the 208 was launched in Europe in spring 2012 and reached the UK at the end of June. In a few months, sales will commence in the Russian and South American markets.

The 208 has already recorded a rich mix since launch, with 38% of customers choosing high level versions, the Allure and Feline.

By the end of 2012, 23,000 orders had been received for the new 208 in the UK. This, combined with over 17,000 cars already on the road, makes it one of the fastest selling Peugeots of all time.

The New Year has continued at a pace with 208 orders rising, up 45% in the first six weeks compared to the same period in 2012 for the 207.

The 205 was a ground-breaking product back in 1983 and with the 208, Peugeot returns to form with a car with a wider choice of new engines (3- and 4-cylinder petrol, very low CO2 diesels from 87g/km and all below 100g/km), and a car that is lighter and smaller on the outside yet bigger on the inside than its predecessor.

In April, one of the most anticipated new cars of 2013 comes to market in the shape of the new 208 GTi. Some 29 years since the launch of that iconic car of the '80s; the modern day successor to the 205 GTi will deliver a desirable package of style and image with performance in spades.

An awful lot has changed in the world in 30 years, but Peugeot can still be relied on to deliver a winner.