Jordan showcases 'Wild Arabia' in new BBC documentary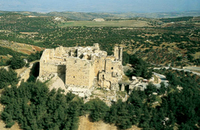 The Hashemite Kingdom of Jordan will be showcasing its natural beauty and desert wildlife this week with the launch of the new BBC wildlife documentary, Wild Arabia. The three part documentary begins on February 22 at 9pm, with scenes filmed in a variety of locations including Jordan's Wadi Rum and Petra.
Renowned for its vast desert landscape and historic sites, Jordan actually contains a surprising variety of wildlife, including over 70 species and subspecies of mammals, such as the asiatic jackal, desert fox, striped hyena and wolf, as well as 190 bird species and 73 species of reptile. Jordan also boasts a wide diversity of wild flowers, including the national flower - the black iris.
Wild Arabia will see the BBC team venture into some of Jordan's top tourist sites, including Wadi Rum and Petra, to unearth the region's fascinating array of desert wildlife. The towering dunes of Wadi Rum hide a number of wild animals including the grey wolf, Blandford's fox, the sand cat and the ibex, as well as a variety of small birds, of which the most common is the desert lark. The intricately carved Nabatean temples and shrines in the ancient city of Petra are also home to birds including Hume's tawny owl and the sinai rosefinch.
Nature lovers looking to visit Jordan in 2013 will be able to visit the new Royal Botanic Garden near the country's capital, Amman. Covering two and a half mountains (180 acres), the gardens will open to the public in June and include the re-creation of five native Jordanian habitats; including a deciduous oak forest, pine forest, juniper forest, freshwater habitat and Jordan valley habitat. Visitors will also be able to take in the views from a variety of scenic lookouts, placed around 20km of hiking trails. Bird watching huts and a butterfly house are also under construction.
To celebrate the launch of Wild Arabia, Visit Jordan has compiled the five best experiences for nature-lovers:
Ajloun Woodland Reserve - situated on a remote hillside above the town of Ajloun, the reserve comprises of evergreen oak, wild strawberry trees and olive groves where wild boar, foxes and badgers roam free. Two scenic walking trails take you through wooded valleys and ridges through the reserve and nearby villages.
Dana Nature Reserve - encompasses the beautiful Wadi Dana. The area is home to the Syrian wolf and other endangered animals, as well as 700 plant species, and 215 kinds of birds. Varied terrain provides plenty of walks.

Wadi Mujib - this giant canyon is 4km wide at the top and narrows to a high rocky gorge carrying a fast-flowing river down to the uniquely mineral rich Dead Sea. Four plant species never before recorded in Jordan were discovered here. It is one of the most dramatic and unspoiled areas of natural beauty in Jordan.

Azraq wetlands- in the eastern deserts of Jordan, the Azraq oasis includes a protected area of wetlands. The oasis comes to life at sunrise, and isolated bird-hides offer spectacular bird-watching opportunities.

Dibeen Forest Reserve - characterized by pine oak forest and home of several endangered animals and plants.
Botanical Tour of Jordan
Cox & Kings (coxandkings.co.uk) has a one-off escorted botanical tour to Jordan from 18 - 27 April 2013. Led by English garden and landscape designer Paul Hervey-Brookes, the 10-night tour is priced from £2,195 per person, with a single supplement of £395, and includes flights with Royal Jordanian, transfers, excursions and accommodation with breakfast daily. The tour includes visits to the Dibeen Forest, the Dana Biosphere Reserve, Petra and the new Royal Botanic Gardens.
Prices subject to availability and correct at time of publication.