Parker and Farr launches the new English Collection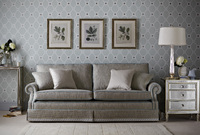 Luxury furniture manufacturer Parker and Farr has launched a brand new collection inspired by our British heritage and elegance.

The English Collection is a range of exclusive pieces designed to capture beautiful British craftsmanship with a hint of quintessentially English inspired flair.
This marks a new direction for Parker and Farr and with a new design team on board, the collection has been created with the modern buyer in mind.

The pieces are smaller than original Parker and Farr collections and the fabric chosen reflects the evolution of upholstery design over the last 200 hundred years. Each takes inspiration from Britain's design heritage, through architecture, landscape design and interiors.
The collection has been developed in partnership with English Heritage and they are working in partnership to preserve the craftsmanship that goes into every piece of Parker and Farr furniture since the 1950s.

Tony Crinion, managing director at Parker and Farr said: "This collection has been developed over the last eight months and we're delighted with the results.

"It has been inspired by all things English including historical buildings, interiors and landscapes resulting in a new collection that delivers a new product range with attention to detail not seen before in the furniture market. Each piece has a timeless beauty that can only be captured through Parker and Farr."

The English Collection will be launched in March at an exclusive event at Dartmouth House in Mayfair.

For more information on Parker and Farr and The English Collection visit parkerandfarr.co.uk.