The Muses House Boutique Hotel, Turkey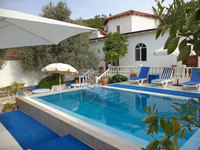 The Muses House, a small privately owned boutique hotel tucked away in the traditional Turkish village of Kirazli is a stylish and tranquil haven within easy reach of the world famous archaeological site of Ephesus and the Aegean coast at Kusadasi.
Rated as one of the top 25 B&B/inns in Turkey by the TripAdvisor traveller community, The Muses House has received a Travellers' Choice 2013 award.
Hidden amongst the narrow streets, the former antique Greek villa is now a comfortable and sophisticated retreat offering a peaceful contrast to the colourful working village. Two attractive courtyards, one with a swimming pool, the other a verdant oasis where breakfast is served, provide total relaxation for guests. The large reception room has a baby grand piano and an extensive library lined with books on Turkish history, art and culture, as well as board games and playing cards.
High ceilings and air conditioning keep the five ensuite bedrooms cool in summer and there's solar heating when needed. The rooms take their names from the muses of Greek antiquity but their furnishings are a mixture of Turkish aesthetic and international design. Each room is individually styled; some feature hand painted furniture, Clio and Thalia have four-poster beds while Erato, which is on the first floor, has a private balcony.
An evening meal is on offer most days with home-made dishes combining modern Turkish and European cuisine with some Pacific Rim fusions. Nick Justice, who owns and runs the Muses House with his wife Maggie, is the chef. His excellent culinary skills take advantage of the abundance of fresh local, organic produce; wherever possible ingredients come from the local village. Kirazli Koy, which means, cherry village, was the first registered eco-village in Turkey and is well known for its quality fresh fruit and vegetables.
The hotel is fully licensed and carries a selection of wines and spirits including good value red and white Turkish wines, while complimentary non-alcoholic drinks are provided.
Ancient Site Visits
Kirazli is just 15Km from the Roman city of Ephesus where the scant remains of the great temple of Artemis, one of the Seven Wonders of the Ancient World, can be explored. On a pine shaded hillside above Ephesus lies a small Byzantine church, which according to tradition was the site of the final home of Mary the Mother of Jesus. Further south are the remains of the great city of Miletos, whose theatre held 25,000 people and beyond that, at Didyma, is the great oracular temple of Apollo.
Nick and Maggie can arrange tour guides to these fascinating ancient sites, plus a further 15 or so, all within a day trip from the hotel making it an ideal base for everyone with a keen interest in archaeology.
At Camlik, around mid-way between the Muses House and Ephesus, there is a large train museum, with a fascinating collection of engines and some carriages including the coach that Mustafa Kemal Atatürk (1881-1938) travelled in while on campaign. An army officer, he led the Turkish national movement in the Turkish War of Independence and became the first President of Turkey.
Alternatively the coast at Kusadasi is 12Km away offering a range of water-based activities from day boat hire and fishing trips to snorkelling and scuba diving. Around 25Km to the south is a large National Park with pristine beaches and unspoilt landscapes, which are home to many species of birds and even wild boar and leopard.
For guests who stay longer, the island of Samos is also a popular day trip served by a daily ferry boat or they can charter a day boat to cruise the clear waters around the National Park, which makes a lovely day's outing.
Prices at the Muses House start from around £95 per double room per night B&B for two sharing; guests have use of free Wi-Fi and an IPAD. The nearest airport (70Km) is Izmir, which is served by direct flights from London Gatwick with Easyjet or from Stanstead with Pegasus. BA and Turkish Airline operate from Istanbul to Izmir. There is also a train station 9Km away at Camlik with a direct service to Izmir and its airport.
For more information, visit museshouse.com.