Maserati GranTurismo and Quattroporte feature at Harrods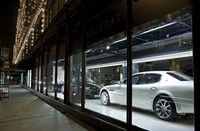 One of this year's most exciting window displays will feature at Harrods between 28th January and 23rd February 2008, as the stunning Maserati GranTurismo and Quattroporte are showcased in the Brompton Road windows of the world's most famous department store.
The ultra-stylish luxury cars will be part of a spectacular display which pays tribute to the iconic Italian marque: clients will be able to arrange test drives, admire the latest items from the Maserati Collection and also choose among the over four million options to make their new vehicle uniquely bespoke.
The GranTurismo and Quattroporte truly redefine the term 'luxury sports car'. Both have been designed by the renowned styling house Pininfarina, and embody Maserati's unique mix of rich motorsport heritage and timeless elegance.
Alongside its cars, Maserati will showcase a selection of items from the Maserati Collection. Amongst them, a handcrafted Cigar Humidor and Watch Box which will be available exclusively at Harrods for the duration of the Maserati feature display. Produced using traditional techniques, the Cigar Humidor is an exquisite blue lacquered mahogany box featuring a silver trident inlay and with a cedar wood interior. The Maserati Watch Box, also in blue lacquered mahogany with a silver trident inlay, holds up to eight watches in a plush velvet and alcantara interior.
Customers visiting the Maserati lounge area in the window will also be able to enjoy a preview of the new Maserati Lamp, designed by Marco Morosini and the fruit of a prestigious partnership with Lumina Italia, the Italian company renowned for its contemporary interior lighting solutions. Fashioned in highly polished steel with opalescent glass shade, this lamp is inspired by Maserati's iconic grille. The Maserati Lamp will go on sale after the official launch at the Salone del Mobile in Milan later this year, and Harrods customers will be the first ones to receive it.
The new range of products from the Maserati Collection will also be on display. These include silver cufflinks, an exquisite pure cashmere sweater and matching scarf from the Executive range, polo shirts and caps for golf aficionados from the Pure range, and sporty items of clothing from the new Maserati Corse range, inspired by the two FIA GT1 World Championship titles conquered by Maserati in 2005 and 2007.
Last but not least, Maserati's prestigious partnership with the luxury Italian fashion house Salvatore Ferragamo will also take centre stage at Harrods. The bespoke five piece luggage set designed for the GranTurismo will be on display at the Knightsbridge store.