Give the apple of your eye the Big Apple with Jet2.com and Jet2holidays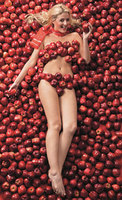 Jet2.com and Jet2holidays are giving its customers the chance to grab a bite of the big apple with the early sale of great value flights and package breaks to New York.
Trips to the city that never sleeps are available from Glasgow, Newcastle, Leeds Bradford, and East Midlands. They are also available from Manchester Airport for this first time this year, offering local travellers great value flights and package breaks. Plus packages with Jet2holidays can be booked for just £60 deposit per person.
On sale from today, Jet2.com flights take off on selected dates in November and December 2013, perfectly timed to treat a loved one to a pre-Christmas getaway in one of the world's most romantic cities. Whether choosing to take advantage of the return flight from just £439 per person or booking a complete Jet2holidays shopping break from £699 per person, giving the gift of the Big Apple is bound to make loved ones and wallets smile!
Steve Heapy, Chief Executive at Jet2.com and Jet2holidays said: "Our New York trips continue to be extremely popular which is why we have expanded them to make them available from Manchester Airport this year – giving even more passengers the chance to experience the Big Apple at unbeatable value. We've put New York on sale even earlier this year to ensure those managing their finances don't miss out on the chance to access the glamour and buzz of this thriving city, with plenty of dollars left to spend on all the must-see and do activities this amazing city has to offer at Christmas."
New York flights and package breaks are available on the following dates:
Glasgow Airport: 14th – 17th November 2013
Newcastle Airport: 21st-24th November and 5th - 8th December 2013
Leeds Bradford Airport: 5th – 8th December 2013 and 12th-15th December
Manchester Airport: 21st – 24th November and 12th – 15th December 2013
East Midlands Airport: 14th – 17th November 2013
For flights visit Jet2.com or to book your shopping break visit jet2holidays.com.