Skipper Paul Cayard chooses Maserati Granturismo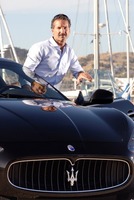 High-tech design, cutting edge materials and the quest for optimum performance are just a few of the traits shared by sports cars and sailing. These characteristics, combined with the beautiful Pininfarina design and his love for Italy, explain Paul Cayard's choice of a black Maserati GranTurismo for the streets of San Francisco.
Paul Cayard was the first American skipper to win the Whitbread Round the World Race in 1998. In 2005-2006 Paul skippered the Disney entry, "Pirates of the Caribbean", in the Volvo Ocean Race to overall second place. Cayard cemented his place in Italian sports history as skipper of the Italian entry, "Il Moro di Venezia", in the 1992 America's Cup.
Paul is a seven-time sailing world champion, a five-time America's Cup veteran and two-time Olympian. Cayard's accolades include election to the Sailing World Hall of Fame in 2002 and being crowned Rolex Yachtsman of the Year in 1998.
Since its debut 18 months ago, the Maserati GranTurismo has not ceased to captivate, as 3,700 drivers have already got behind its wheel. The reasons for its success are clear: sleek and fascinating lines reveal a sporty car, powerful and brilliant, yet usable in everyday life with excellent handling and superior comfort. The back seats comfortably accommodate two adults.
The Maserati GranTurismo is equipped with a 4.2-litre engine that produces 405 hp at 7100 rpm and is capable of reaching a top speed of 285 km/h (177 mph) with 0-100 km/h (0-62 mph) acceleration in just 5.2 seconds. The Maserati GranTurismo is on sale now with on the road prices starting at £79,900.
A world class car for a world class sportsman.