London Fashion Week 2013: Behind the scenes with palmer//harding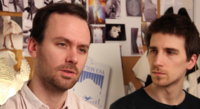 Best friends, business partners and two of London Fashion Week's biggest emerging talents, a behind-the-scenes look at Levi Palmer and Matthew Harding has revealed their fascinating insight on the fashion industry, and, what the pair known more commonly as palmer//harding, are preparing to do next in their goal of inspiring the next generation of designer shirts.
With the label launched in Autumn 2011, the palmer//harding collection can be found in prestigious stores across the globe; the pair are focused on Statement shirts as a signature item and the rising stars are quickly becoming known as pioneers in shirting.
For Autumn/Winter 2013, palmer//harding has been exploring new textures and shapes, whilst remaining centered on the cotton shirt. Continuing its search for a balance between two extremes, the new collection is rife with contradictions - structure/fluid, masculine/feminine, austere/romantic, light/dark, dirty/clean and lightweight/heavy.
It comes with a second sponsorship from COTTON USA who provide invaluable support for up and coming designers to grow and improve their work. Since its inception ten years ago, the sponsorship programme has boasted an impressive set of alumni, including Louise Gray, Richard Nicholl, Meadham Kirchhoff, Preen and PPQ. Levi and Matthew were chosen for a second season due to the heavy influence U.S. cotton plays in their label palmer//harding.
"The COTTON USA sponsorship is incredibly important to us." said Matthew Harding. "It gives validation for a young brand to receive such a sponsorship and it really helps to put us on a global scale."
Levi Palmer continued: "We love working with cotton – it's such a versatile material. As we are a shirt focused brand, we concentrate a lot on cotton."