Maserati's newest dealership welcomes latest creations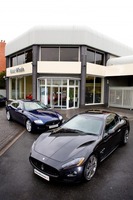 The latest addition to Maserati's official dealer network, Nick Whale Maserati, celebrates the arrival of Maserati's latest and most powerful flagship saloon, the Quattroporte S, alongside the ultimate expression of Maserati's sportiness, the GranTurismo S, at their recently-opened site in Bromsgrove, Birmingham.
Nick Whale is the new official Maserati dealership for the Birmingham region and the Midlands. The current site has undergone a £250,000 make-over and will move to state-of-the-art, multi-million pound premises in the Solihull area in 2010. As of today, customers from the Midlands will be able to test drive and order both the new Quattroporte S and Quattroporte models together with their coupé relations: the GranTurismo and the GranTurismo S. A wide range of approved pre-owned Maseratis are also available at the site.
Maserati's Managing Director, Andrea Antonnicola, said: 'We are delighted to welcome Nick Whale into the Maserati official dealer network. This facility will provide an excellent service to our Midlands based clientele.'
Nick Whale Maserati is at: 492 Birmingham Road, Marlbrook, B61 0HS.