Peugeot 208 leads popularity March for '13-plate'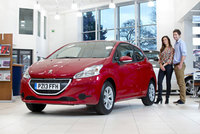 With the new '13-plate registrations entering the market on Friday, Peugeot Dealerships across the UK are well-placed with an extensive range of models that includes Hatchbacks, Saloons, SWs, People Carriers, Crossovers, Compact MPVs, Coupé Cabriolets and Sport Coupés, plus a comprehensive four model van range.

The most popular model is the Peugeot 208, launched in the summer last year and already a UK sales success as a 'Top Ten' performer in January, now with over 28,000 orders received since launch in the UK and some 300,000 already produced. With a stylish design, low CO2, great performance and outstanding economy, there is the imminent prospect of luxurious and performance models coming soon in the form of the new 208 XY and the eagerly awaited 208 GTi.

The latest 208 model is the 208 Intuitive which comes with Park Assist system as standard to take the hassle out of parking. With the press of a button, it can measure and guide the driver into a parking space, taking control of the steering to accomplish a perfect manoeuvre, alerting the driver to any likely incidents too.

Peugeot Director of Marketing, Morgan Lecoupeur said: "Bearing in mind the 208 Intuitive can park itself, comes with Satellite Navigation and a glass panoramic roof, it is luxury at a great price. The Park Assist system provides easy parking, less chance of a bump and is good fun to use too."

The 208 Intuitive is now in UK showrooms, with a choice of three engine variants - a 1.2-litre VTi 82 petrol, a 1.4-litre HDi 70 and 1.6-litre e-HDi 92 diesel – with prices starting at £14,245 for a 3-door VTi.

While the '13-plate registrations will be the first identity on the 208 XY and GTi, which will be available to order from the 1st March and available in showrooms from the 18th April, March is also the busiest time of the year for new car registrations.

Consumers can also benefit from Peugeot's unique and highly popular 'Just Add Fuel' offer which has recently been extended to include 21 year old drivers. Just Add Fuel provides three-years' servicing, roadside assistance, warranty, road tax and insurance all for one monthly fixed payment and fixed over three years. Improved and with variable inputs, Just Add Fuel prices remain very competitive and it is now possible to get a brand new Peugeot 208 1.0-litre VTi Access from just £159 a month.

Just Add Fuel Offers include:

107 3dr Active 1.0-litre - £139 per month (with a £1,640 deposit)
208 3dr Access 1.0-litre VTi 68 - £159 per month (with a £1,531 deposit)
208 3dr Access 1.0-litre VTi 68 - £208 per month (21-year old with a £1,569 deposit)
308 Access 1.4-litre VTi 120 - £239 per month (with a £1,965 deposit)
308 CC Access 1.6-litre VTi 120 - £345 per month (with a £3,087 deposit)
3008 Allure 1.6-litre VTi 120 - £259 per month (with a £3,096 deposit)
5008 Allure 1.6-litre VTi 120 - £279 per month (with a £3,646 deposit)

More information is available at peugeot.com Terms and Conditions apply – Just Add Fuel is not available in Northern Ireland.