GranTurismo S and Quattroporte S at London Fashion Week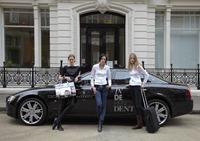 Maserati GB and London's leading model agency Independent continue their partnership as London Fashion Week showcases the Autumn/Winter '09 collections of the best British designers.
Throughout this week, top models from Independent Model Agency are chauffeured around in the latest and most powerful Maserati creations: the GranTurismo S and the Quattroporte S. Both cars are perfectly at home cruising around town, offering a stylish and refined retreat from the feverish catwalk action and creating a sense of occasion every time they appear, thanks to the enticing sound of their exhaust note.
And for car-mad fashionistas Maserati launches today the limited edition Momaboma eco-bag. Hand-made in Italy from old Maserati brochures, the Momaboma bag celebrates the history of one of the most prestigious car brands in the world. Produced in a limited edition of 150 pieces, the Momaboma goes on sale today with a retail price of £130. It can be ordered by telephoning Maserati GB direct on +44 (0)1753 878 753 or by emailing marketing[at]maserati.co.uk.